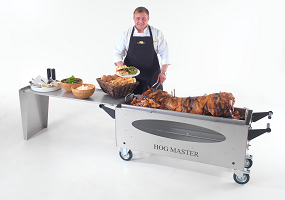 Hampshire, or 'Hants' as its more lovingly known, is arguably one of Britain's most important areas and regions. Contained within the illustrious County of Hampshire is Winchester – which was Britain's first capital city.
On top of this, Hampshire is also the birthplace of all three of the Armed Services, the Royal Air Force, Royal Navy and the British Army. Its importance simply cannot be overestimated at all. In terms of physical geography, Hampshire lies on the south coast of England, and is a true gem when it comes to having a hog and spit roast event with us.
Along with having a very rich history in terms of the armed services, it also has very strong links to the world of literature. Writes such as Jane Austen and Charles Dickens make up just a few of those who have originated from this truly eclectic hub of Britain.
The great engineer Isambard Kingdom Brunel also has his roots in Wythall – displaying yet another important character to have come from the beautiful and diverse area of Hampshire. With a large and bountiful agricultural heartland, it provides very well in terms of high class and high quality ingredients.
As the purveyors of bespoke hog and spit roast event catering, we feel very honoured to cater for the region – reflected in the rapid growth in our services. From hog and spirt roast wedding catering, through to laid back summer parties down on the glorious summer coasts – our slow roasted whole meats are sure to tantalise the taste-buds.
It doesn't matter where you require hog roast catering because we have vast experience of providing our services for a substantial number of people.
If you are wondering right now about what is hog roast catering, then you're in for a surprise. Hog roast catering is where our sublime machines tenderly cook your pig in such a way that the juices which ooze out of it actually enhances the taste.
Many of our customers have commented about how wonderful their hog roast meat was, especially as they have gone back for a second and third offering. When we supply hog roast Hampshire catering, we arrive with plenty of time to spare before your actual social function is to take place.
Therefore, the pig is cooked in a way that we have delivered to our many customers. Although this cooking time might seem excessive, we do not because when you taste our hog roast food you'll be very surprised as the meat will provide a sensation in your mouth. But what kind of social function have we been known to provide our hog roast catering for?
Hog roast catering is where the food is cooked to perfection using a hog oven. The meat tasted wonderful and was completely succulent especially when it was accompanied by apple sauce and pear pickle. Having sampled the hog roast meat first time round I decided that I would have a second serving which tasted just as delicious as before. My friends thought I had changed my personality as I always ate small portions and never went for a second serving.
But, they could see that I had tasted something special and they all followed suit by each having a second and third serving. My friend George who the party had been held in honour of, was too busy eating his way through five servings. He was enjoying himself so much that he didn't even talk to his wife for most of the night.
As the alcoholic refreshments came and went, we couldn't get enough of the food we were sampling. Not only did we have hog roast meat to consume but also other types of food as well. Having served my own salads, it was great to see how salad can be prepared especially when salad dressing was applied liberally.
As the evening progressed and we all ate what hog roast meat was left, the night was a complete success. Not only were all items of food eaten but it helped us to relax especially when our previous tour had been very stressful.
When the night had ended, I talked with the hog roast caterer and asked him how much he charges for his hog roast catering events. With the price quoted to me, I was amazed at this and thought that if I was to provide hog roast catering services I would be able to do this at a surprisingly cost-effective price.
We started talking and discussed about what culinary qualifications he held and, surprisingly again, he had the same qualifications as me. This gave me an idea and was one I couldn't get rid of for quite some time.
So, when I returned back to my ship (I am in the navy) I couldn't help myself from recreating what I had sampled that day. Thankfully, I had asked the hog roast caterer for advice about what makes a hog roast catering event a success.
Although I didn't have a hog oven, I was able to land a great deal with a local butcher so that my shipmates could be given a treat on their first night back on tour.
The meat which I had bought out of my own money was a locally slaughtered pig from a nearby farm. I had always made my own pickles and this enabled me to provide this along with my hog roast.
To say I was nervous was an understatement as I didn't want to disappoint the large number of people who I was serving. All that was needed was to prepare the meat and wait to see what the outcome of my own hog roast catering event was.
Well, I needn't have worried because the hog roast I served was a huge success. Cooking the meat to perfection, many of my shipmates commented about how tasty their meat was. They also said about how wonderful their pickles were.
Thankfully, I had also cooked freshly picked potatoes as well and this was accompanied alongside the hog roast meat which I provided. It was such a success that the Captain commented on the food and this was something which I had never received before.
He also commented that he would pay good money to have this sort of food especially as I could use my catering experience to my advantage. This sparked a Eureka moment and helped me to decide on what to do after my last tour of duty had ended.
When I retired from the Royal Navy one year later I decided to follow in the same footsteps as the aforementioned hog roast caterer and start my own business. Thanks to cooking for hundreds of thousands of sailors in the Royal Navy which ranged from Petty officers to more senior roles, I have perfected my skills to such a degree that I reckon I can cook a sublime hog roast.
Fast forward six months and I have now started my own hog roast catering company which provides for the Hampshire area. With my client base stretching from the New Forest right up to Rushmoor, my hog roast catering company has become renowned.
After all, I needed something to do after my retirement and thanks to serving food to vast numbers of people, this has enabled me to provide many people with hog roast catering. With my experience in providing catering services for a hundred people right up to one thousand, the locations which I have provided my catering for have included wedding receptions in stately homes to small gardens in council estates.