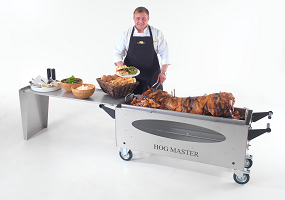 So, you live in Haverhill and you have a big dilemma on your hands. It's the same dilemma that hundreds of people face each year. You have a bit event to organise that needs food. Good, reasonably priced food that everyone will love. Surely that's easy, right? If only.
Picking the right food for a special event is like finding a needle in a haystack; it's an almost impossible task to get it perfectly right. If you try to save too much money, the food suffers.
If you try and make it too extravagant, you have to cut down on the numbers. If you go all nouveau cuisine with the food then some people are going to hate it. It's a no win situation.
Then again, there is an alternative for you and the other twenty two thousand people of this Suffolk market town. A hog roast Haverhill alternative might just be the catering solution that you, your guests and your budget were searching for. It might be time to note down the number of your hog roast hire Haverhill chef, just in case.
Choosing Taste the Cracklin's hog roast hire option is not quite the radical or off the wall solution that you may think. In fact hog roast is something that has been growing in popularity in areas around the UK for some years now, and of course it was a very popular option in the days of its conception in medieval times. But this is the twenty first century and you have a function to plan. No time to waste.
A hog roast could really be the answer to all your planning prayers, giving you the perfect solution that is not only going to be very tasty but allows you to escape the confines of catering mediocrity with some of the best fresh cooking around.
Maybe this explains why hog roast is helping change the habits of event planners across the UK. Boring old pizzas are out and hog roast is roaring in.
Trust Hog Roast Haverhill To Treat Your Guests
It may be that many of your guests won't be bothered about whether their food is freshly prepared or not, nor might the nature of the ingredients matter too much, either.
For those that do care however, hog roast will come as something of a rather pleasant surprise as it welcome combination of both these things. The Haverhill chef insists on great meat to start with and by selecting a super specimen of whole pig from a recognised quality supplier, you are already on a winner. But what happens next? Cooking magic, that's what!
A large open spit roasting hearth is simply not a practical option in most venues these days, especially with all the young children around, which is why the Taste the Cracklin chefs bring their own, rather attractive solution. The hog roast machine is the mobile twenty first century answer to the open hearth spit. Shiny, safe and very modern, it is this piece of gear that will be the location of the whole pig's roasting. All Six hours of it.
Why six hours? Why not? After all you don't want to build up your guests into frenzy by promising them great food only to disappoint them do you? Of course not. That's why a great tasting hog roast needs a great amount of time to cook perfectly.
Slow roasting does incredible things to the meat, ensuring succulent pork and crispy crackling every single time. Six hours maybe, but the hog roast will have been started off, so don't worry, you won't be waiting that long for your meal. It could get difficult though because the aromas while the hog is cooking will be quite something, but be strong!
If you are worried about your catering budget then you are not alone. Maybe people have to make compromises when it comes to event catering, and it often shows. Luckily hog roast comes to the rescue.
A single hog roast is not only delicious but also a rather generous beast too, quite able to feed over a hundred of Haverhill's finest with prime pork meat. In fact you may even want to reconsider your number of guests if you can feed more for less.
There you have it, Haverhill. Hog roast really is something of a hero when it comes to making your occasion that little bit extra special. There is now no need to worry about that catering dilemma because you have a solution on your doorstep in the shape of a Haverhill hog roast chef!