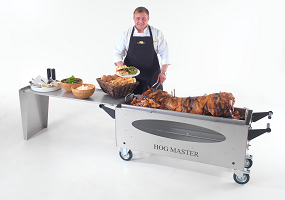 The weather has changed a bit for the cooler lately and the nights are starting to draw in. we've had some very crisp autumn days, which makes a nice change from the rain: winter is definitely on the way.
But don't loose heart because there is still plenty to do with all the Halloween parties, the Bonfire night parties and lest we forget, Christmas!
It's going to be a busy time for hog roast Hayling Island. We cater for all kinds of events from big formal functions to cosy intimate ones. And we also like to get out in to the fresh air and cater for out of doors events too.
This is why you'll find hog roast Hayling Island at farmers markets, village fetes, sporting events and Bonfire parties. There's something really heart warming about seeing a big fire burning away and watching the fireworks light up against the night sky. But while we all enjoy it, it does get a bit cold and shivery, and after all the fun what could be nicer than warming your hands on a tasty snack?
A hog roast hire Hayling Island snack isn't quite the same as a burger or a hot dog. We use only the best, locally sourced meats in our roasts, all organic and free range, so not only will your treat be tasty, you'll know it's healthy too.
All our cuts of finest meat come in a warm floury roll and accompanied by a delicious tangy apple sauce and warm herby stuffing made by our chefs, and as much crispy crackling as you can eat! We believe the best way to enjoy your autumnal festivities this year is with a helping of our delicious, melt in the mouth roast to keep you warm inside and out!
We think getting around to these out door events is really good fun and in the more informal setting it let's us chat to folks about what we do, there's usually quite a bit of interest! But we also have a highly profession formal catering service that's suitable for any number of events whether they're big or small. In fact we can comfortably cater for events whose guests number well into the hundreds.
Appetizing In Hayling Island
Our hog roasts are a spectacular sight because with our special ovens we can easily roast whole pigs or lambs. Your guests will be amazed by the sight of the full pig slowly rotating on the spit gradually becoming a beautiful golden colour and releasing all its delicious aromas as it goes.
The hog roast hire Hayling Isalnd team have a highly trained and dedicated team of serving staff who will wait on your guests professionally and politely as they enjoy our top grade roasts. And with our exemplary table dressing combined with the theatrical sight of the hog roast and our talented chefs preparing your meal, we know your guests will be really wowed!
Of course not everyone will want pork, and that's why we can also offer whole lambs, cuts of beef, barbecue meats and even rotisserie style chickens and turkeys. We have carefully put together a number of menus that are suitable for a whole range of events and we're also happy to tailor make a menu to best suit your event.
Hog roasting is gaining in popularity all the time because it's such a cost effective way of making great tasting food that really goes a long way. We get so much interest from people who want to do their own hog roast that we now have the hog roast hire Hayling Island service available.
Hog roasting is a great passion of ours which we think everyone should be able to enjoy and with our special custom designed, easy to use ovens this is now possible.
There are a number of options when you chose hog roast hire Hayling Island: the ovens come in a number of sizes from the large for bigger parties to the smaller for intimate gatherings.
Being professional hog roasters ourselves, we have designed and custom made our ovens for ease of use and flexibility. We like to offer our clients as much choice as possible and when you hire one of our ovens the same flexibility is available to you.
All our ovens are made from durable stainless steel which not only makes them tough and long lasting, but also easy to clean and maintain and gives them a pleasing over all look.
They all come with a raised, fully motorised spit roasting pole; a grill shelf for barbecue meats and pans and they are all gas powered with a thermostat to give you full control over your cooking. All our ovens are fully CE certified for your safety and peace of mind.
And if you are thinking it might be a nice idea to do a hog roast for friends and family, or even in a more professional way, but feel a bit overwhelmed by the prospect, that's fine, because our friendly team are more than happy to give you some lessons on how to get the best out of the oven a make a fantastic meal to remember. And really hog roasting couldn't be easier when using one of these fabulous Taste the Cracklin machines!