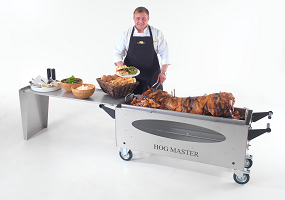 Some might say that the days of the great old British eccentric are long gone. Maybe they are but the British still cling on to many of the rather odd and curious customs that have been a part of the nation for centuries.
One of these rather odd customs is the Hot Pennies ceremony that takes place in Honiton each July. This ancient ceremony involves the throwing of pennies (no longer hot but warm because of health and safety issues) from balconies to people in the streets below. These pennies can then be spent at the fair takes place that week.
There's something else that's hot in Honiton that the town's near twelve thousand population will probably enjoy a little more and that is the return of the Taste the Cracklin hog roast in Honiton.
No, it's not an annual event like the Hot Pennies ceremony but one of the signs that a great British food tradition is making a very welcome comeback.
Once the feast of the rich and regal, hog roast is now enjoying something of a new lease of life as more and more people are choosing hog roast as their catering solution of choice for events and special occasions, not just in Honiton but across the UK.
This really is something of a reversal in fortunes for the humble hog roast as it only made the occasional appearance at functions up until about a decade ago. Now Taste the Cracklin's hog roast is all the rage and very much in demand in these parts to add a touch of hog roast magic to any event.
What are the reasons for you to choose a hog roast Honiton over another option? You could consider the long hog roasting process, which takes a significant six hours from beginning to end. The long slow cooking process really helps those all important flavours mature and soak into the meat, ensuring you get some of the very juiciest pork meat you will taste in this part of Devon, if not anywhere!
Then there are the plain and simple economics of catering for many special occasion, which can be very expensive at the best of times. Hog roast is one of the most affordable catering solutions out there.
Spectacular Hog Roasts In Honiton
The beauty of hog roast is that it really helps bring down your cost per head. When you book your hog roast hire Honiton chef, they may tell you that (depending on the size of pig they use) there may be enough meat to serve around one hundred hungry Honiton folk. That really is a lot of meat and a lot of delighted guests.
And what about that choice of pig? A whole pig for a start and not just any old pig but a really good quality animal that has been chosen for superb taste. Ask any top chef and they will always remind you that you need to start off a meal with great quality meat to ensure a great tasting meal.
Hog roast chefs are no different and apply the same principles to cooking your hog roast as a top chef would to cooking in a five star restaurant. Don't think hog roast is a fast food option: it's a quality food option.
Hog roasting is sexy cooking, too. Well, what I mean is, it looks brilliant. Unlike many catering options where the food is prepared out of sight and simply served direct from the kitchens or laid out buffet style, Honiton hog roast is a performance.
The hog roast chef will take great pleasure in cooking your meal for you on the splendid hog roast machine and for all of your guests to see. This means that you not only get to see the cooking process and get to smell the incredible aromas as they fill the venue but you will also get to see the meat being carved there and then. Now that really is a performance.
It's not hard to see why hog roast is making such a triumphant comeback. The traditional method of cooking (albeit with a modern twist) make hog roast very appealing to the growing number of people who appreciate quality food.
The fact that hog roast is affordable, can feed so many people and is a visual treat also helps, but the main pulling power of hog roast is that it's just so incredibly tasty. When you have a function, making the food memorable for the right reasons is very important. A Taste the Cracklin hog roast will not let you down.