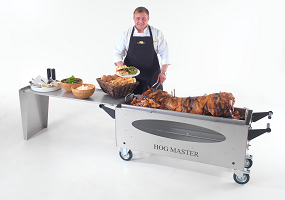 The market town that is Huntingdon used to be former Prime Minister John Major's constituency.
It is also the birthplace of Oliver Cromwell and home to the Old Bridge, a well preserved bridge that crosses the River Ouse. A charming place with eighteen thousand residents and a taste for hog roast.
Hog roast Huntingdon? Indeed, Huntingdon, like many of parts of the UK has developed something of a taste for hog roast in recent years and it looks like functions and special occasions will no longer be relying on the old boring catering solutions anymore. Taste the Cracklin hog roast chefs are going to be busy by the looks of it.
Of course, hog roast is not something new. In fact Huntingdon Castle probably saw many a hog roast in its heyday, so you could say the trend started centuries ago.
In reality, the hog roast Huntingdon renaissance arguably has more to do with people looking for great quality, freshly prepared food that comes at a great price. Hog roast certainly ticks those boxes.
Now, if you are planning an event either soon or in the not too distant future, maybe it's time you assessed just what it is you are going to be looking for when choosing the catering for your event. You may find that, once you have done so, hog roast seems like an increasingly attractive option.
Hog roast cooking, could be described as ultimate all round special catering solution and the hog roast hire Huntingdon caterer is the one who can make your plans for great food at your event come true!
If you want your guests to leave your party or occasion with a positive memory of the occasion then great food is always the trump card. Think about the times you have been out and had a good night with friends, but if the food was poor, you remember and you tend to tell others about it.
You don't want to happen at your event so do something about it. With a hog roast chef looking after the food at your event the only things people will be saying about the food will be totally positive things.
A lot of that is down to the meat itself. Hog roast chefs only work with quality meat and that means making sure they select a great specimen of pig from their specialist supplier.
Specialist Event Caterers In Huntingdon!
Great quality meat is important to any chef, as poor quality meat will almost always result in poor flavour. Great meat on the other hand results in first class results, and that means a great hog roast!
Now, how many people are you planning on inviting to your Huntingdon spectacular? Is this going to a lively and large, raucous affair or something a little more sedate and cultured? Not that it matters of course, because hog roast is a feast for all occasions. Let us sort out those numbers first because this is where your typical catering budget gets blown out of the water.
With hog roast you can breathe a long and huge sigh of relief because hog roast is an accommodating beast of a feast. The hog roast caterer will be able to coax enough meat out of that one whole pig to feed over one hundred people! More than enough for most events.
Taste the Cracklin provide hog roasts that make great party food, I think we all know that. Hog roast rolls are fast becoming one of the UK's party favourites, and quite right too because they taste heavenly, but hog roast is no one trick pony (or should that be pig).
Hog roast can do a James Bond and go from rugged devil to dashing socialite quite easily. If you are looking for that formal, sophisticated meal for a wedding reception or maybe to impress work colleagues then hog roast can rise to the Huntingdon challenge.
A little bit of fine carving from the chef and the addition of some crispy crackling (the best there is, by the way) and you have a supreme plate of gourmet hog roast that would grace any formal event.
You don't have to make an effort when it comes to event catering. You could simply choose the play it safe ticket and serve the usual boring options that everybody has had a thousand times before, or you could do it properly with delicious hog roast. What do you think your guests deserve?