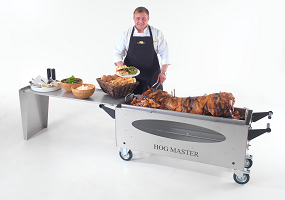 Taste the Cracklin's Hog Roast team in Inverness have done it again: yet another successful spit roast with hundreds of satisfied customers!
On a bright and breezy Saturday morning the Hog Roast Inverness team packed their hog roast oven into their van and set off for the Northern Meeting Park to set up their stall and ensure that the whole spit roasted pig was well on its way to porky perfection by lunchtime.
What an incredible spectacular the Games are: highland dancers twirling around in their colourful tartans and waistcoats to the wonderful sound of traditional Scottish piping, is such an awe inspiring sight that Hog Roast Inverness thinks everyone should see it at least once.
From our vantage point we were able to see the "heavies" hurling their hammers and tossing their cabers as their kilts and sporrans fluttered in the breeze. But we still don't know what a Scotsman has under his kilt!
Soon Hog Roast Inverness were able to add their own contribution to the day: as our pig roasted and released its fine aromas into the air, hungry games goers were soon lining up, eager for a bite of some great food that was so in keeping with the theme of the day.
For the visitors of the Highland Games we prepared not only our fabulous whole spit roasted pig, but also our warm and herby stuffing and tangy apple sauce which compliments the tender, melt in the mouth pork so well.
Hog Roast Inverness – Great Food For All Occasions
One of the great things about a spit roasted pig, is the wonderful crackling it produces, so there was plenty of that to go around as well, and as our customers kept coming back for more, we think it's safe to say that they agreed with us that it is the best crackling ever!
Hog Roast Inverness love these special outings, but we also offer a more formal service. We are becoming famous locally for our fantastic formal, sit down banquets as well as our out door marquee catering.
At Hog Roast Inverness we offer extensive menus which we feel cover the needs of a range of events from corporate functions to private parties; from small and intimate gatherings to large functions catering for hundreds of people. We pride ourselves on providing the same level of excellent service no matter what the scale of the event.
Our friendly and professional serving staff are always on hand to greet and wait on your guests politely and efficiently as our talented chef's work to bring you a meal of the finest quality.
Because we are committed to the success of your event we will discuss every aspect of the day with you including the menu. If in the unlikely event that you don't see a menu right for you, we will endeavour to work with to create the right meal for your day.
We think our passion for what we do really shines through in the quality of our food: from our wonderful roasted meats to our fresh salads and starters. So whatever your event, give the Taste the Cracklin Hog Roast Team a call and lets make your day one to remember together!