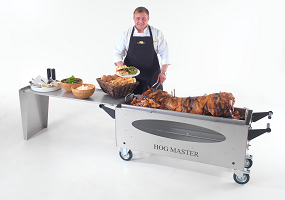 If you're looking for hog roast Kettering or hog roast hire Kettering, we've got it all – a great catering service with crackling, decorations and bread rolls as standard, and for those with a more do it yourself kind of style, we have hog roast hire Kettering, which means you can just hire a hog roast machine from Taste the Cracklin and provide your own hog roast.
Kettering is a market town with the local landmarks being, Boughton House, Queen Eleanor cross and the 1597 Triangular Lodge, built by Sir Thomas Tresham.
Tresham was a devout Catholic who was imprisoned for his beliefs. He built Triangular Lodge to defy those who had had him imprisoned, and to secretly declare his Catholic religion.
The lodge has three sides, three floors, three windows and gables. The number three represents the Holy Trinity, which is central to Catholic doctrine
Kettering's main claim to fame is in Mitchell and Webb's sitcom "Peep Show", which has many scenes located in Kettering, because the head office of the company which employs the lead character Mark Corrigan is located here. But the scenes weren't filmed here, and the places in the show are not real local businesses.
The town was originally named Cytringan, Kyteringas and Keteiringan in the 10th century, and its current and former names derive from the Old English meaning 'the territory of the tribe of Ketter'.
There are lots of office buildings in Kettering Business Park, and a leisure sector with a new hotel. We often find ourselves catering corporate events and office parties for the companies here.
Able To Meet All Of Your Requirements – Hog Roast Kettering
Some offices hire machines from us for their Christmas or end of year bash. We've definitely seen more corporate clients since this park was developed.
We have been delivering hog roast machines for office Christmas parties in the last couple of weeks and have several orders for hog roast machines to be delivered to offices in the next few weeks.
New Years' is also always a busy time, it's definitely fun (if not hectic at times) and it's not unheard of to do a couple of deliveries in a day during our busy periods. When we wheel the machine in everyone always looks at us.
Because it's so close to the holidays, the staff are always just chatting and the atmosphere is more cheerful. We usually attract some attention, and when we set up the machine in the room they want it in, it's full of tables piled high with food.
We always check the machine is working at hog roast Kettering, and show the clients how to operate it. Sometimes the hog roast is there already, and we help the clients put it in the machine.
People are often surprised at how heavy hog roasts are. When the roast starts turning, people often get interested because they haven't seen that before.
But we don't just have corporate clients; a week or so ago, we catered for a private party at a local hotel. We got there early, put up the balloons, laid out the serviettes and condiments.
Then as the guests began to arrive, we showed them to their seats and filled glasses. My favourite part of the evening has got to be carving up the roast. It's just great when you begin to carve and the juices seep out, and the aroma of hog roast, apple sauce and spices hits you.
Sometimes I feel like every pair of eyes in the room is on me when I carve – which is probably true. It's almost like a show, with the carving. It's got to look good; you've got to have finesse; you can't just go stabbing at the meat. It's all part of the service so it's got to look good and be done properly.
When we serve the roast and the guests dig in, that's another of my favourite moments. It takes time and effort in our kitchens to prepare the hog roasts and bring out their taste, as well as using spices to enhance the flavour.
And the end point, the goal, of all that preparation is people's enjoyment when they taste it. It should be tender, juicy, with a rich flavour. And for a lot of events I've catered for, for many people it is actually their first ever taste of hog roast.
The thing about being a hog roast caterer for Taste the Cracklin, is that you get to cater all sorts of events and meet all sorts of people. Birthday parties, weddings, community events, the public sector, charities – our team has seen them all.