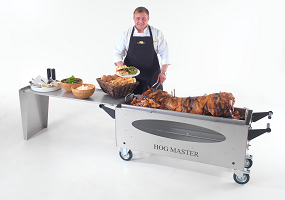 When you live in a Royal Borough, it is only reasonable to expect that any special occasion you attend in and around the town should be equally special.
Well, okay, maybe not to a royal standard but the very least you would expect is for some significant effort to be made with the event and, more importantly, the standard of food that is being served up.
Catering at special events is always going to be a big issue for many people, and with good reason, for nothing quite literally leaves a bad taste in the mouth like terrible event catering.
If you want to annoy, disappoint and dismay people then probably the single most effective way of achieving that feat is by serving up terrible food at a specially arranged event.
Not that you are going to inflict such poor food on your Kingston guests, of course! Of course not, you are going to make your event rather special and you will achieve this with the help of a hog roast hire Kingston caterer.
Make your event a hog roast Kingston occasion and you are going to lifting your event to a whole new level because hog roast really is one of the best catering options out there and is certainly one of best tasting solutions for any social occasion you could think of. Hog roast is also one of the more fashionable catering solutions for any big event….but it has not always been like this.
Go back a few years and a Kingston special occasion would have been anything but when it came to the catering. These were the days of uninspired catering with pizzas and sausage rolls, chicken drumsticks and cold pasta.
No sign of anything remotely delicious and the nearest anything came to being freshly cooked was when the pizzas emerged from the oven a few hours earlier. Why did we put up with it for so long? Well, not any more. Hog roast hire Kingston catering has ensured that the days of lousy catering at events is a thing of the past.
So just why is hog roast so special? Surely it cannot be the amazing catering all rounder that everyone claims it is? And what is so wonderful about the taste? It is just a pig, isn't it? What can be so wonderful about that?
Well, a hog roast Kingston chef will probably be chuckling away reading these thoughts because you are talking about a truly great meal and not a take way.
Flexible Menus To Suit Any Requirement in Kingston
Everything about hog roast indicates quality through and through and it all starts with the chef picking a great bit of meat for the roasting. And by a bit of meat, I do of course mean a quite significant whole pig!
A whole pig is actually quite a bit bigger than you think but you still need to make sure you pick the right type of pig for roasting. The chef knows just what to look for so that your Kingston guests get the very best flavours, right down to the pig having just the right amount of fat…because that is crucial.
Choosing hog roasted pig is only the start. You then have to make sure that it is cooked just right and that means a long hard cooking session that can last around six hours!
If that seems too long then you do have to remember that it is a whole pig that's being cooked, but the results are well worth waiting for. Slow roasted hog roast meat is one of cooking's best kept secrets.
All the slow cooking helps the meat absorb every last drop of flavour from the bones, and that results in some of the very tastiest meat you will have tasted for a very long time.
This amazing feast is not only great tasting but it's something of a good looker, too. There can be no more splendid sight for your Kingston guests than to be greeted by a glorious hog roast being tended to by the hog roast chef.
It does look quite special. It's no surprise that many a king and queens has enjoyed hog roast in this meal's long past, and that in my eyes means it is a totally suitable meal for this Royal Borough.
There really is no need to put up with poor substitutes when it comes to catering for special events. Get a food that really is deserving of the word by making sure you make a booking with the Kingston hog roast chef as soon as possible.