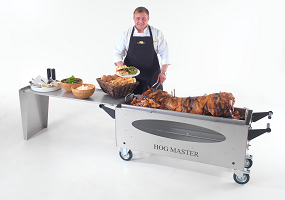 With people falling all over themselves to book Taste the Cracklin for their hog roast events in Lanark. Your interest will have surely been piqued and you probably find yourself asking why. What are the Taste the Cracklin team in Lanark doing to have thousands bookings them each year?
We'll tell you what we're doing: We're cooking ludicrously luscious tasting hog and spit roasts and doing so with pro standards for hard to believe prices!
We really are the hog roaster of the people, now words out about what we do. It seems we're the hog roast catering to go to in Lanark. But worry not, we've expanded our hog roast team and we're still taking new bookings for hog roast events, so you haven't missed your chance just yet.
We spit roast whole pigs, lambs, chickens and turkey of a regional flavour, brought in fresh for every event from locally-run and owned farms. We also spit roast a mean sirloin of a beef and a traditional chicken kebab.
Aside from that we can tray roast all of the previously mentioned meats and have in addition a grilled gourmet sausage and 100% British beef burger choice. Sounds great so far, right? Well what if we told you that as well as being the master of the spit and tray roasting domain.
Taste the Cracklin has as part of our many catering packages a mighty list of desserts, starters, side dishes and canapés, all of which with the quality to match our main selling point, our meaty roast pig.
You can book us for an event with hundreds or thousands of guests, but you won't see any strain on our lean, talented pack of hog roasters – they know what they're doing and can do it with ease even where other caterers would show serious struggle or fail with the huge work load.
For us there's no such thing as too big, no event which is too difficult for us. With only a small team we've catered for thousands, with a 1 man team we can cater for hundreds. Hog roasting is ingenious in this regard, which leads us to another service: Hog roast machine hire.
What so often catches people by surprising when they enquire about Taste the Cracklin catering is that we have a great number of exciting, quality vegetarian dishes.
Book Our Professional, Contemporary Hog Roasting Service In Lanark
Not only do we do our bit for your vegetarian guests, we bring you the same quality foods for any guests you have with food allergies. The versatility of what we do, is represented even more in our capacity to make a kosher or halal spit roast.
We get the meats from quality butchers to serve you spit roasts with the same excellence as if you were to book a normal spit roast.
The very impressive line-up of food you'll get from a Taste the Cracklin hog roast is only matched by our equally impressive line-up of services.
Our team that can provide you with all that you could possibly need, from a front of house person who'll be there to welcome and direct your guests, to a drinks bar that we can operate throughout the course of your event, and that's not forgetting our well known professional waiting service.
You can also get your hands on a hog roast if you hire a Taste the Cracklin machine, the machines for hire are no different to the ones we use ourselves when catering. So you can be assured that they're of an astounding quality.
You'll be able to do all that we do, yourselves with the hog roast machines, hired from us. Hog roasts, spit roasting other meats, even grilling sausages, burgers, bacon, steak etc, it's all a possibility with our machines.
With such culinary fire power being brought by a Taste the Cracklin machine, it's not difficult to get to the bottom of why restaurants, catering companies and cafes are knocking on our door every month looking to get their hands on one of our machines, for their own establishment.
Hiring a machine will produce an authentic, rarely felt buzz. A spit roast or tray roast machine if hired will be delivered to and returned from a location of your choosing, with an instructional CD which will help you get your head around the easily learned basics.
Not to mention we'll set you up with a bottle of gas for free. On top of that we can also deliver the machine with an optional pig for a little extra in cost.