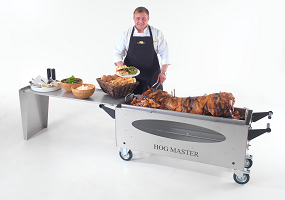 Lancashire is often depicted as grey ans somewhat cold by the rest of England. However, many who live here would agree that the regions in and around Lancashire, such as Beckenham, form the very beating heart of Britain.
In terms of our services as hog and spit roast catering providers, the areas in Lancashire provide us with some of the most delightful produce available anywhere. With rolling hills, deep valleys and lofty mountain tops. The topography of the area lends itself to agricultural farming very well indeed.
By sourcing all of our produce from areas such as Preston and Chatburn. We successfully ensure that our services are exceptional before we've even lit the fires in our tailored hog and spit roasting machine units.
With strong links to sports, the county of Lancashire has no shortage of sports teams, who absolutely love tucking into a great pork, stuffing, crackling and apple sauce roll.
With Cricket a strong favourite with many in Lancashire, it is apparent, even to the day-tripper from afar, that the folk of Lancashire have an almost tangible link with their past.
At events all across the region, from Wrea Green through to the lovely Hog Penwortham, our hog and spit roast catering services have been growing and growing in popularity – without showing any chance of slowing down at all.
This is because of the level of quality involved, along with our ability to keep the costs low for our clients. Instead of price-inducing pursuits such as purchasing fillets of meats and individual portions.
We use whole carcasses – meaning much less cost in their purchase and much higher quality at the same time – which is something we love. Lancashire is a place with so much variety that it only seems fitting that Taste the Cracklin's Hog Roast Event Catering should have a base there.
One of our specialities is catering for peoples varied needs and requirements. We have catered within areas of different landscape around Lancashire.
The fantastic thing about the county is that you needn't go far to be in completely different surroundings. Not much can beat being by the cool woodlands on a hot summers day roasting a hog (and of course some crisp fresh salads to go with it and seeing the look of great pleasure upon guests faces as they tuck into the feast we've prepared.
We can cater for a hog roast all across the beautiful county of Lancashire. From parties and corporate events, to the whitest weddings amongst the rolling hills serving our top of the range menu which includes greeting guests with drinks and canapés on arrival. Soon followed by our finest three course meal.
Fancy and formal feasts are just one of our many fortes with hearty hog roast suppers and corporate events also included. At Hog Roast Event Catering, we pack that extra crunch into our crispy crackling and our hogs are roasted for hours so the meat is juicy and tender and charms the socks off your tastebuds.
When we provide a quote for your event, it includes everything, there'll be no unexpected extra charges that we'll spring on you when you least expect it which we think is essential so that you don't have a thing to worry about you really can sit back and relax as we sort everything out for you. From cutlery and crockery, to waitresses and chefs, we can cater these things to your requests so that you get exactly what you're looking for.
Is there are more diverse county in the UK than Lancashire? If there is then I really would like to hear about it because I think I would take some convincing because Lancashire really does seem to have a little bit of everything going on plus a lot more that many do not realise.
Of course, the historic county boundaries took in the two north west city giants, and for many people in those areas, the red rose county is still their chose county and not for them the anonymity of greater this and greater that. You still find that some people still add Lancashire to their address. Of course, the county cricket team is actually based at Old Trafford! Make of that what you will.
Lancashire's diversity continues with its locations. To the East of the county you have the Pennines and the white rose border, yet to the west you have the seaside and probably the UK's most iconic seaside resort, a stark contrast to the more rural quieter areas in between.
Indeed Lancashire has a fine tradition of agriculture and farming, with a rich heritage in producing quality produce. Maybe this is why hog roast in Lancashire is proving to be such a popular option at the many events, parties and functions that are held across the region.
Lancashire really does seem to have taken to the pig roasting magic of hog roast like no other with a huge number of events taking place across this large county every single week.
Lancashire really is quite a buzzing county. To many outside the county, and in particular from the south, they may have a rather stereotypical image of Lancashire but they forget that this is one of the hottest spots for business and enterprise and creativity in the UK.
It could also be the UK's own version of Dallas if the ongoing fracking quest for shale gas proves to be fruitful. With great hopes for the possible shale gas bonanza, it could well be that the number of hog roast Lancashire events will soar as people celebrate hitting the jackpot.
Going back to farming and produce, it may be worth remembering that in every hog roast that you attend, a little bit of the region benefits and that's because local pigs are always used in hog roast. The hog roast caterer likes to keep things local by sourcing good quality pigs.
Not only is this more practical but it helps deliver great flavour and supports good local producers of quality meat, so if you were hoping to book a hog roast caterer and wanted to show how proud you are of your Lancashire roots then a hog roast could just be the perfect way to bang the Lancashire drum and serve up some truly delicious, slow roasted meat that all your family and friends can really enjoy.
Hog roast is a great way to cater for a function, party or corporate event in any region, and especially in this, the great red rose county of Lancashire!