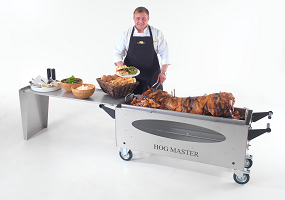 The glorious county of Lincolnshire is situated on the gorgeous East Coast of England. A large county in terms of area, the county itself is steeped in history and has a very diverse range of industries.
With our bespoke hog and spit roast catering setup, we have had the pleasure of catering for countless events across the whole region, from hog and spit roast wedding catering, to providing exquisite hog and spit roast catering at corporate events in Lincoln.
When it comes to the people, there is nowhere quite like Lincolnshire. People are always ready to lend each other a helping hand – and its always accompanied by a warm smile.
When it comes to the food we serve at our events, the fact that we are situated in Lincolnshire is a massive help to us. This is due mainly to the fact that the standard and quality of the livestock produce is so exceptional. From Immingham, its easy to see why – with so many farms about it is of little wonder. Just as with the fame of the Lincolnshire sausage, the folk of the region know a lot about food; its a part of them.
Great for us, this organic link with food and where it comes from helps our cause – as there is no finer way to consume eat at all – spit roasting is by far the best! Wedding events in areas such as Woodthorpe, have been met with jovial success – as have our legendary hog roast summer garden parties in Biggin Hill.
With such good food – its of little surprise to chart our rapid growth. When invited to special occasions such as weddings and christenings or even business lunches. The food is what is desperately yearned for after hours of sitting in the church service or listening to your boss talking trying to disguise the howls of your hungry belly waiting to get out and eat some good food.
But upon arrival to the buffet table you end up feeling disappointed as your eyes glaze over the stale sausages rolls and the sad looking quiche failing to bring alive your taste buds.
Surely its the 21st century and such buffets should have been modernised by now like everything else. A great option is to have a hog roast buffet, we can provide a hog roast across the many towns and villages throughout Lincolnshire.
We only serve the freshest and tastiest meat, knowing that quality sells and with a trained chef on hand it will be carved and served to perfection.
The hog roast can happily feed up to 150 people and with side helpings of crusty bread rolls and soft baby new potatoes no one will go hungry. To add a bit of variety you can also add chicken or lamb to your spit roast.
If you are wanting the best of the best we have our rare breed hog roast which is the highest quality meat and the best flavour. Or if you are wanting something much more casual but just as entertaining why not try our barbecue menu which caters for all palettes.
From the traditional beef burger to our mouth watering Mediterranean chicken kebabs there is something to suit everyone even the kids will happily indulge in a hot dog or two.
So when organising your next party or event why not consider Hog roast catering to wow your guests and be the talk of the town. Choose Hog roast catering to be the buffet of tomorrow.
Right here on the family farm is where we operate our local hog roast service. Helped out by family friends ever since we were teenagers when we first started doing this at the weekends, having a hog roast party was a family favourite and we all enjoyed this as my father reared the meat himself.
For all of us, this was one of many times which we have sampled hog roast but for our next customer this was her first and she was in for a surprise. Over the course of an afternoon and evening, she fed herself to bulging point before she finally gave in and stopped.
Not that I was complaining as it is really satisfying to see someone enjoy our hog roast catering which also meant the other guests didn't feel guilty when gorging on a double serving.
The lady couldn't stop herself from commenting about how tender the meat was especially when served with the other food which my friends had prepared. On that day, I remember serving up a mixture of potato salad which had a variety of herbs from our garden kept beside the family farm. Having been picked earlier that day, the food tasted wonderful as per usual.
For the weeks and months after this she couldn't stop from talking about what she had tasted for it was simply out of this world, there, she had a local delicacy which she couldn't take her eyes off or even her taste buds.
So when looking for hog roast catering for all of your wedding anniversaries, or rest of the in-laws parties once they have tasted for themselves how wonderful hog roasting is they simply will not be able to resist booking hog roast catering for their events then they will love the food served to them.
So after discussing what you need we will arrive on time and bring with us any meat option that you desire including beef, lamb, ostrich even a vegetarian option as well as the hog itself.
Provided for at an incredibly reasonable price, you will be impressed by our catering and so will your friends and family. So for the best tasting hog roast catering events give us a call and leave the rest to us.
It may be one of the largest counties in the UK but Lincolnshire likes to keep things simple. This is a very agricultural county with large areas of farm and agricultural space dominating the landscape. Lincolnshire is a real place for farmers to get stuck in to their work and deliver the agricultural goods for the nation.
But this county is not solely dedicated to agricultural needs and there is a lot more going on in this area than you may have previously thought. The coastal areas of Lincolnshire are very popular with hundreds of thousands of people thanks to their attractive seaside resorts and this form of tourism is a big draw for people all over the county and indeed the UK.
The resorts may not have the glitz and glamour of some better known seaside areas but that could also be part of their appeal too!
But the agriculture in Lincolnshire remains a key part in the county's success and it is this that could go some way to explaining the appeal of a particularly ancient catering solution that is making a slow yet very welcome comeback in this county and in many areas across the UK.
The hog roast is no stranger to the UK, having been invented back in medieval times as a way of cooking delicious meat in large numbers for a very select band of people.
Then, for some unknown reason, hog roast seemed to fall out of favour, only making the occasional appearance at events. That however is changing and the last 10 or 15 years has seen the hog roast Lincoln event make a remarkable impact on the corporate and private function catering sector.
It really has been a remarkable turnaround for this medieval miracle of meat cooking and has seen the appeal of roasted pig reach out to a whole new audience who may otherwise have never really chosen to sample hog roast at all.
So why does it appeal to people in Lincolnshire? Well, it is not just a Lincolnshire fad by any means but one thing that will be of great appeal to the people in this county is the use of good quality meat, and good quality meat is something that the people here know all about.
A hog roast in Lincolnshire is all about quality, which may surprise some people but it is something that relies on good ingredients and slow roasting to deliver an exceptional eating experience.
Hog roast chefs are always keen to use locally reared pigs and with so many quality producers in this part of the world, that is always a simple task. Pigs with good meat and good fat make for excellent pig roasts and it all contributes to an exceptionally brilliant tasting feast that is unmatched by any other form of catering you can think of.
So, when in Lincolnshire make sure you take advantage of the great meat produced here and indulge yourself and your friends and family in the delights of a hog roast.