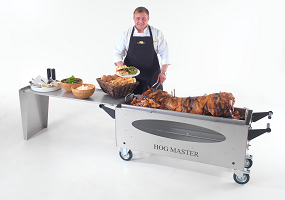 At Taste The Cracklin we are home to hog roast Longridge, our hog rast is one of the most succulent forms of catering. Each one of our hog roasts is cooked to perfection in our specialist machines by chefs who know exactly which herbs, spices, and seasoning will bring out the very best flavours.
Our hog roast is fantastic for any event, it may not be the first form of catering which people think of but once they've had a hog roast they won't look back. A hog roast is great for both formal and informally events with the ability to adapt to both indoor and outdoor catering as required, the pesky weather won't cause any issues.
Our chefs are well trained and watching a hog roast cook is almost a show on its own, our chefs are always very happy to answer any questions especially about the way the hog roast cooks, or what they're doing to make the hog roast taste so fantastic.
The Best Hog Roasts In Longridge
Your wedding catering is very important so why not choose a hog roast? Longridge has many different catering options available but our hog roast will provide you with one of the best hog roasts your guests have ever had.
If you're looking for the best catering experience, and something a little different. Why not pick up the phone or fill in the contact form on the website and we'll be in touch with you to explain a little more about how we can help you.