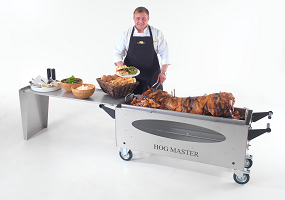 We are a hog roast catering business based in Marlow, a town on the bank of the Thames. The Marlow Rowing Club is one of Britain's top rowing clubs. There are even two regattas associated with the town – the Marlow Town Regatta and the Marlow International Regatta. These have a very long history as the earliest records prove that a regatta took place in Marlow from as far back as 1855. Marlow still hosts its Original River Regatta every year in June.
Here at hog roast Marlow we provide catering for a wide variety of events throughout Marlow. We also provide hog roast hire Marlow for those who are a bit more hands on and looking to do it themselves. It's a busy life, but a fun job.
Yesterday, we delivered a hog roast machine to a birthday party in a local pub. We carried the machine out of the van and wheeled it into the pub. The bartender took us to the function room and we set up the machine where the customers – who were already there – wanted it.
We checked it was working and showed them how to operate it, which we always do here at hog roast hire Marlow. The machines are easy to operate and once it's on, it will just keep turning by itself.
Superb Servings For Marlow
Our next job was to cater for a Christmas party in a hotel on the other side of Marlow. We found the place easily. We discussed the layout of the tables and where to put the hog roast machine with the clients.
Then we put up festive red and white balloons, took care of the serviettes, condiments and bread rolls, and made sure all the tables were set and we had the right wine. Then we took the hog roast out of the van, unwrapped it and put it in the machine.
Then the guests began arriving and we were busy meeting and greeting them and pouring drinks. The roast was turning and gleaming redly, all shiny with the apple sauce and its own juices. After a while it was time to cut the roast, which always releases its spicy scent and makes me want to eat it.
We served the roast and it was obvious that everyone was enjoying it, which always makes me feel proud. I've seen lots of people have their first ever taste of hog roast. I like to think we provide a great service at hog roast Marlow.
Everyone was having a great time, and it's like, we made that happen. You feel proud that you contributed to a great night out. As the guests left, two of them said that it had been their first hog roast, and usually it's true of lots of people that they haven't had a hog roast before. Especially not one that's roasting in front of them and that they're eating fresh off the spit. It lends a certain festive touch, I think.
.Afterwards, the clients said they were very pleased with it. We cleaned up the room, and then we were on our way back here. We have several Hogmanay and New Years' orders to be getting on with, as well as the usual weddings, corporate events and engagement parties.
After a while, we went to pick up the machine we had hired out earlier. The clients were in very high spirits and said it'd been brilliant. Their mood was infectious and, after loading the still-hot machine into the van, we drove off still grinning.
It's not all fun and games, though. The other night it was absolutely freezing, and we had to deliver a hog roast machine for a retirement party. I swear, it's even colder near the Thames, which is where we were. They'd hired out a room in a small hotel for the evening and 30 guests were attending. That's the beauty of this job – we get to cater for massive events top hotels, and for ordinary families having a good time.
Anyway, we were soon out of the van and carrying the machine inside. We wheeled it over to where the clients wanted it, did a final check, showed them how to operate it, and helped them put their roast into the machine and ensured it was turning properly.
It's a fulfilling job, this, and you get to meet lots of people. Marlow is a nice town, and the people we meet are nice too. It's always a good day here at hog roast Marlow.