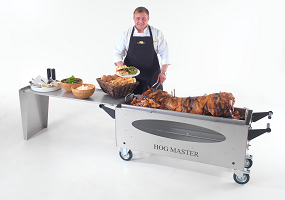 Taste the Cracklin has been making peoples lives easier and their events even better over the years.
Against all odds we're the most successful caterer that there is in Matlock, rising above what was once seen as "niche catering" we've outgrown our competition, now the once boastful caterers who didn't take hog roasting seriously at the start are coming to us to buy hog roast machines for their own businesses, looking to improve and gain popularity with our own machines! It's now beyond question hog roast catering from Taste The Cracklin has no equal.
We have a hog roast experience which really is in a league of its own, we're so good we've been promoted from the ranks of other caterers and shine like a lighthouse in a sea of catering companies.
The appeal of our hog roast is one that grows brighter by the week, word once seeped out about a Taste the Cracklin roast, but now the talk has snowballed and the flood gates have well and truly opened – it's no longer a secret, Taste the Cracklin makes the best hog roasts by far!
The type of hog roast Matlock quality foods you'll find in our menu section are the obvious hog roast and spit roast selections that our fans expect of the most enthusiastic hog roasting team in this area of the country.
We're talking about the best pig, spit roasted and served for guests with stuffing, apple sauce and crackling on rolls of bread; the best chicken, turkey, beef and lamb; even spit roast authentic chicken kebabs are what you can expect to see as an option for so many of our different menus, be it in the wedding menu section or in the party section.
But that really is for a lot of our menus the tip of a very large iceberg, because speaking of icebergs, you'll get your choice of some stunning chefs-own salads, the best finger foods represented by our introductory canapés, Michelin standard starters, a choice of a potato side whether it's a jacket potato or new potatoes served in a herb butter, and to close many of our menus is a choice of desserts that range from the refreshing and light to the heavy and sweet.
With all these available for your Taste the Cracklin catering you'll undoubtedly fall in love with one of our menus, and if history is any indicator then your guests will feel the same way when they're done with our food.
And all of that is just for starters. The second service which you should be interested in if you have an interest in good food and good events is hog roast machine hire.
The name of the service is self-explanatory, you call us and book a machine, we'll come down to you in our purpose built hog mobile and drop off a purpose built spit roast or tray roast machine. The machines are good for all types of roasting.
You'll have the power to roast your favourite meats and even your favourite vegetables, such as jacket potatoes. The fun is never ending with hog roast machine hire, you'll have the most immaculate delectable roast pig and the added bonus is that you get to sit in the driving seat and do it all yourself.
No hog roast chefs stealing the fun, just you and a hog roast machine, a combination that will see you produce untouchable spit roast flavours for every palate.
Your hog roast hire Matlock can be tailored to any purpose. If you're throwing a one off event we have a 1 day hire package which will be perfect for you, we don't force people to hire for longer than they need.
But if you do need to hire for a long time you can hire on a monthly basis or we could perhaps come to a special arrangement and hire you a machine at a discounted price for an ongoing basis. Whatever your needs, whatever your plans, Taste the Cracklin has a hog roast hire Matlock machine that won't let you down.
Or, if you intend to hire for a long term basis, you could save yourself a lot of time and money by simply purchasing a hog roast machine. With three unique and highly sought after models it's Taste the Cracklin with a finest arsenal of hog roast machines.
Buying a machine, whether for your garden or your restaurant, is a big investment but one that will pay off. Call us to discuss with a representative any of our many hog roast services.