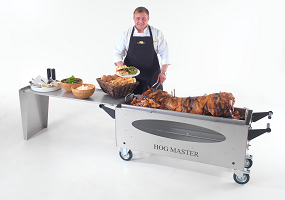 An authentic passion for spit roasts is what's drove us to be the best in Middlesbrough for catering.
With consistent results that others could only dream of, we're the first and wisest choice for a professional hog roast catering service at your event.
We're the TasteTheCracklin catering expertise starts with party catering and extends to catering weddings, corporate events and everything in between.
We're so highly skilled with our hog roast catering that taking on a multitude of jobs comes naturally, regardless of what the details might be. Big informal events with thousands of guests?
No problem. Small-scale party events for a close-knit group of friends? No problem. A training day for 100 staff members? Well, we're sure you're seeing the trend by now – Whichever your hog roast event type, size or style, we'll thrive in the environment and make a 10/10 winning hog roast.
The wizardry with which we make hog roasts often leaves people stunned as to how we manage it, 'it' being the hog roasts with the most scrumptious qualities in all the town.
It looks so easy but tastes so outstanding, how on earth do we do it? The trick is in using the best hog roast machines with the best produce, and having chefs with a thorough experience hog roasting certainly doesn't hurt!
The number of times we've hog roasted for jobs big and small has equipped us with a deep and almost effortless understanding of what we need to do and how we need to do it for all manner of events.
Our chefs are always comfortable getting behind the hog roast machines no matter the menu or type of event they'll be spit roasting for. With thousands of successful events completed over the years we're always confident at events, with competent chefs that have nerves of steel to match the stainless steel finish on the hog roast machines they cook with.
Taste the Cracklins most popular hog roast package happens to be the most basic and traditional menu we have. The menu is compromised of a pig, usually large and usually spit roasted for many hours, carved and served with crackling, apple sauce and rustic stuffing on crunchy, fresh bread rolls.
You get to pick any extra condiments for your spit pig sandwich and there are many, so they'll be no short supply of your favourite combinations.
A Feast For The Eyes And The Palate with Hog Roast Middlesborough
The next menu in our very long list of menu packages is a spit roast snack menu, which is quite similar to the roast pig roll menu in that it's spit roast meat on tasty and fresh bread rolls, only with the spit snack menu you get to choose which meat you want spit roasting.
The selections are spit roast chicken, spit roast sirloin of beef, spit roast turkey, spit roast lamb, spit roast chicken kebab, and finally a little different is the sausage and burger meat choice.
The sausages and burgers are chefs-own, using the best, prime British beef to make them.
The other catering packages come with much more variation and scale. Menus 4 and 5 in each category have a mass of dishes, from desserts to canapés, to round off the hog roast experience for more thorough, grandiose event catering. These bigger menus are served at your event either in an informal seated format or buffet style.
To get Middlesborough's numero uno hog roast you could even forget about hog roast catering all together, because we have alternatives that don't include catering services. Our hog roast hire service is just one.
Hiring or buying machines is a sure way to find yourself and friends eating a mouth watering hog roast. If you want a hog roast for an event then buying a machine wouldn't make much sense, which is why we came up with the idea of hiring our machines on a short term basis.
The periods of hire are 1 day, 1 week, 1 month, or in special cases when inquired we sometimes will rent machines indefinitely.
It's a brilliant and easy service and we couldn't believe when we started as a company that there weren't any other hog roasters offering quality but well priced, and most importantly easily accessible, hog roast hire.
Our hire service is so popular now that we have several different models for hire, will deliver and return hired machines to our customers, and we'll leave the machine set-up already with a full gas bottle so you can hog roast for many, many hours.