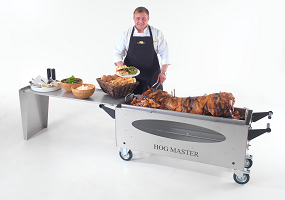 Taste the Cracklin is the first choice hog roasting caterer for Newport.
Started years ago we're a hog roaster with an enviable hog roast Newport reputation, other caterers strive to be half as good and half as popular as we are.
We've worked tirelessly to win over the hearts and minds of our customers, bringing them a fresh hog roast experience which stays with them for life.
Our superlative hog roast catering experience is one you'll hate to miss out on. With the skills to cater for 13 people or 13,000 our appearance at any event is guaranteed to cause a spike in anticipation and excitement, and that's just for the guests who like the sound of hog roasting.
Taste the Cracklin hog roast in Newport and make a real treat for wedding events, team building exercises, sports parties, and more.
We love our food, we know that for your event you'll love it to, and we're confident we have a hog roast catering package which suits you down to the very last detail. Menu packages can be had for a fully-seated service, a buffet service, and of course the 100% authentic.
Say-no-to-nonsense hog roast roll package, which is, as you may have guessed, nothing but the best roast pig in a proper bread roll, with stuffing, crackling and apple sauce of course.
The buffet and sit-down hog roast services come with more than that. More in the way of canapés, desserts, side dishes and starters.
Taste the Cracklins already has an excellent reputation which is maintained at every job by sticking to what we like to call the principles of catering.
The principles of catering being good food, good service and good prices. The good food is easy to maintain, our team is composed of wonderful hog roast chefs who can churn out hog roast after hog roast at an alarmingly good rate, alarming because sometimes even we're not sure if they're human!
We Pride Ourselves On Offering Flexible Menus in Newport
The good service is ensured by two teams, our waiting team and the office department. The optional team of waitresses who will serve your guests their hog roast meals are cut from the very best cloth, their skills and good nature come naturally and many of our reviews and testimonials mention specifically what a cracking job they do representing the Taste the Cracklin name.
The good prices speak for themselves, and you'll see just how good they are if you call us for some event menu quotes. The quotes will be without charge so don't think twice about enquiring for a hog roast package.
We've encountered over our years many different events, and every challenge that's been put to us has been keenly accepted and completed in true, professional hog roast fashion. With us as your caterer you can easily relax, safe in the knowledge that there is no task to big or none to obscure for us.
The presentation of our food is spectacular, but where your guests will be really stunned is in the waiting for their hog roast. A hog roast, unlike so many other ways to cook, looks just as good while cooking as it does on a plate.
Seeing a whole hog being roasted will light up the faces of many a guest. Any event small talk between guests will come back time and time again, if we had a penny for every time we overheard a guest talking up how good our hog roasts look we'd all have enough money to retire ten times over!
Call our office today if you're interested in hiring a machine, or if you want to discussing Taste the Cracklin catering with one of our professional, experienced event organisers.