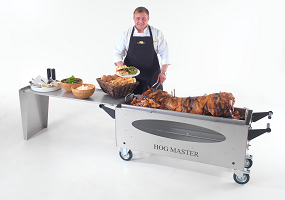 At Taste the Cracklin we offer both hog roast catering and hog roast machine hire allowing to choose the best hog roast Newtownabbey has to offer you.
Many people like to be the one in charge of cooking the hog roast and with our machine hire, it is an affordable way to be the one cooking.
Our hog roasts are suitable for anyone to use whether they're a gourmet chef or a novice in the kitchen, upon delivery full instructions will be given along with an instructional DVD.
Our catering service is perfect for both indoor and outdoor events, a hog roast isn't restricted by location so there's no need to worry if the weather causes a change in plan. We're always flexible and able to move our equipment easily if any last minute changes are required.
Delivering Exceptional Food In Hog Roast Newtownabbey
A number of different menus are available to give the best choice, you can create your own menu from the variations available. If there is something you do not like, or something you don't see on one of our menus. Just let us know and we'll do our best to arrange any additional menu items you may require.
Our Taste the Cracklin hog roast is available across Newtownabbey and beyond. In fact we have depots across the country capable of catering for just about anywhere in the UK. So your choice of venues isn't just limited to Newtownabbey, we're happy to travel and cater for you at any suitable venues you care to host your party, event or wedding at.
It's always our aim to ensure we provide you with the hog roast that you desire and deserve. If you want hog roast catering for your event or to hire a hog roast we have everything which you need.
Then get in touch with the team today and let us talk you through our range of options and see how we can best help you.