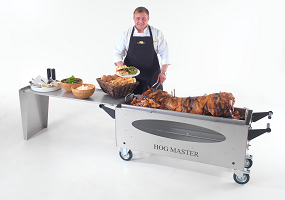 The expansive and naturally beautiful ceremonial county of North Yorkshire is the largest county in the whole of the British Isles.
Situated in the North of England, the land usage is made of nearly 40% National Parks – and you know what that means?
Yes, you've guessed it – sumptuous, high quality meat produce from animals which have grazed on some of the most beautiful and nutritious land that Britain has to offer.
Here in Yorkshire, we have been delighted with peoples response towards or bespoke spit roast and hog roast event catering – from Binham, where we always receive exemplary kind words, through to pleasantries in the the city of York.
Many people including writers, historians and other dignitaries have applauded North Yorkshire for its physical diversity and true disparity when it comes to activities available for the family. In Boroughbridge, for example, you can treat yourself to a lovely walk, closely followed by a fulfilling hog roast.
In Carnforth you and your family or friends can really absorb the true nature of Yorkshire – naturally followed by another hog and spit roast of course.
In Wykeham you can really go for it – getting involved in the Yorkshire way with a juicy pork roll. Or why not head up towards Wollaston, where the party is ever over and there's always a hog turning.
North Yorkshire's climate is exceptionally varied, with areas nudging the sub-arctic circle and other areas having a semi-arid climate. This range and diversity in climatic conditions allows for a whole manner of vegetable and salad produce to be grown – which is great when we pull our menus together at your event – in front of your eyes and your guests eyes.
If you're ready to look over the options for your next event, party or wedding and would like some more information about how Taste the Cracklin hog roast in North Yorkshire could help you. Be it a simple buffet meal, or a sit down meal with meat and veg and all of the trimmings – not forgetting the Yorkshire Pudding!
Then get in touch with us and let us provide you with further information and to see how we can best help you with all of your requirements.