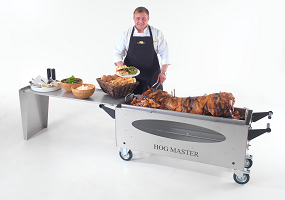 There really has never been a better time to arrange for a hog and spit roast event in the Northumberland area than now.
In Crick we have conducted numerous wedding catered events utilising the best approach to spit roast catering as well as hog roast catering.
On top of this, our hog and spit roast corporate services in areas such as Morpeth have really taken off – showing that the glorious and diverse people of the Northumberland region really do love and appreciate stunning, hogh quality food.
Go to Fenwick for the last word in bespoke hog and spit roast catering with us – we know you'll love it and keep coming back again and again!
Northumberland as an official county is the most sparsely populated in the whole eclectic entirety of the British Isles. With just 62 people per square kilometre, it sure can be a lonely place at times!
But the truth of the matter is that the people, townships and settlements which all come together to typify the region, do so in such a manner that the party is never over.
Ovingham really knows how to let its hair down whilst tucking into a plated spit roast pork delight, served with salads and lovely warm herb infused potatoes – scrummy! Haggerston really encompasses the beauty and greatness of Northumberland – and the lovely people who inhabit the area are massive fans of spit roasted pork and lamb – it really is the best way to enjoy meat.
If you are new to the area – or if you are a visitor to the region, then why not head into the lovely Claypole – the locals are a delight and nothing is too much for their sensational hospitality.
Very often at public food is served to you and you never get to see where what you're eating comes from. This where a hog roasted meal is different from anything else.
We can turn up with a hog roast machine, ready to cook a range of meats, not just 'hog'. We'll then carve and serve all our pigs in front of your guests who will soon be given the opportunity eat the food they've seen cooking since arriving at the venue.
This is a unique dining experience. It is one of the most important features of what we do, because the look and smell that is created is like no other; it is the perfect way to whet the appetites of everyone.
We can cater for as many people as you like, provide affordable, quick and excellent service and most of all provide delicious, succulent food like nothing else around. Why look any further than Hog Roast Catering from Taste the Cracklin for your event.
Why not make the most of your event with a fun and unusual way to serve your guests? Our hog roasts are cooked to perfection fresh on site with the best locally sourced ingredients.
High quality ingredients make high quality food. Professional staff make a professional service. There is no secret formula to a well catered event or party- the food and the experience speak for themselves and our food speaks volumes.
We will arrive at your venue early in the day, preparing and setting up everything, ready to cook live for your guests. All equipment is provided and after your event, we will also clean up and leave the site quickly and discreetly.
We will ensure that your needs are met with a personal touch because we know that every event is different and you want your big day to be perfect.
All ingredients will arrive raw and fresh, perfect for a true hog roast. We use a wide range of leading UK suppliers for meat and vegetables which, coupled with our long experience with the logistics of catering, ensures that local suppliers and local venues are well matched.
No event will go without. We can cater for any size of event from 30 people to 3,000, largely thanks to the dedication of our chefs and caterers.
We want to provide the real thing and nothing less; we will even help with planning your event. We can cover any locations and have provided hog roast catering and machines for over two decades, throughout the UK.
We've gathered a wealth of knowledge over the years that is continually growing as we customise and perfect our own specialised spit roast machines to keep up with our ever rising standards.
We consider reputation to be invaluable and ours has been well earned. We value all of our testimonials on our website as highly as we value feedback of all kinds.
We couldn't do all of this without our highly experienced staff who love the atmosphere of a roast- just as we know you will love that unforgettable aroma are on hand to enhance your event.
Spit Roasting can also boast a history that would make other cooking methods salivate in envy. As soon as fire was controlled, spit roasting followed. It's existed for not just thousands, not just tens of thousands but hundreds of thousands of years!
With so many years of popularity, slowly being evolved and bettered generation to generation, you can paint a picture of just how great hog roasting is. In many ways when you hog roast you're getting a taste of history and as many a historian will tell you, history tastes good.
We provide a mouth watering hog roast that is a spectacle as well as a hearty meal. There is no substitute for fresh food and good service. If you want an event that sizzles, a hog roast will make your occasion truly special.
All that's left to do now, is get in touch with us and let us talk you through the options and let us know what requirements you have for your event.