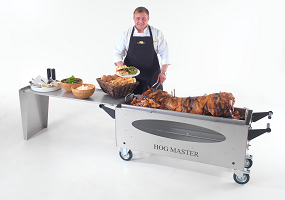 What do you know about Orpington? Well, it is home to around fifteen thousand people (including at one time, none other than Charles Darwin) and is well known for Black, Buff and Speckled chickens.
Perhaps Orpington could also become well known for pigs, too. Why? Well. With the increased popularity of hog roast, Orpington could become a trendsetter. Hog roast catering in Orpington, anyone?
Orpington could be just one of many towns in the UK to start enjoying a lot of the medieval feast that is hog roast. But why is hog roast making a bit of a name for itself these days?
Hog roast is fast becoming the fashionable alternative to traditional, uninspiring catering solutions at family functions, christenings, corporate events, parties and garden parties.
These days, people want something that little bit special and different. They don't want to settle for the usual boring old food, especially when they are keen to make a positive and lasting impression.
Trouble is, it can be difficult to do all this and keep to a reasonable budget. This is where hog roast has started to make a big impression.
We like to think that Taste the Cracklin ticks all the boxes when it comes to delivering a great event. If making an impression is what you are after then hog roast is the perfect solution.
Let's take a typical family garden party, maybe to celebrate meeting up for the first time in a while. Do you really want to be bothered with all the preparation of food that would normally hinder your enjoyment during such a day?
Of course not, so call in the hog roast caterer! A hog roast at your get together can help put a spring in everyone's step. Hog roast rolls are stupendously tasty and the younger party members will be wanting second helpings for sure.
We Cater For Both Small And Large-Scale Events In Orpington
Now what if you have a more important occasion coming up? Maybe one of the kids is getting married and you are looking for someone to do the catering? This can be a minefield, with a perfectly wonderful wedding quite possibly being spoilt by a terrible reception meal.
It does happen, so why take the risk when you can do something different? Give your reception the hog roast treatment. Don't worry, you won't be having rolls to eat (unless of course you are really planning on doing things differently).
Instead, the hog roast chef will prepare and serve you the ultimate hog roast gourmet dinner, beautifully presented, finely carved pork with apple sauce, crispy crackling and all the trimmings.
It will look like a plate of gourmet food from a top restaurant…and to see it all cooked before your guests' eyes will be an extra treat for everyone at the reception.
Whatever the occasion, don't settle for anything less than the best. A hog roast can really help you stand out from the crowd and let everyone know that you care about serving them great tasting, great looking food. Make your Orpington event one to remember!
Simply get in touch with us for a chat about your requirements and what you need and we'll talk you through the options and see how we can best help you.