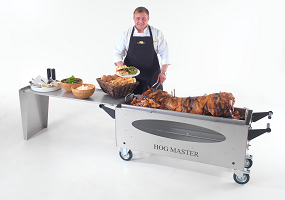 We can help you create the perfect catering for your event when you hire one of our hog roast machines, our machines are very easy to use and so whether you're a novice or a gourmet chef you can produce the perfect hog roast every time.
It is important to be able to offer your guests the very best and with our hog roast machine you can do just that, our machine can be adapted to cook a number of different meats not just a hog. There are different attachments which allow you to adapt the machine so that you can use it to cook many different things. When it comes to creating the very best, Oxford is home to our expert chefs and specialist machines, which can help you create a spectacular meal for your guests.
When your hog roast machine is delivered you will be shown how to use it, and you will also be left with an instructional DVD. You should have no trouble at all using our hog roast machine, to wow your guests.
It is the place they call 'the city of dreaming spires' and that is certainly a very romantic yet true description of the historic city of Oxford, for this city – and in particular the University – really is the place where dreams are forged.
This is the oldest English speaking university in the world and has educated some of the most influential characters in World history. It is impossible to underestimate the importance of Oxford University or the way that it's students have helped and indeed continue to help shape the fabric of society and our ever changing and evolving views of science.
So many great names have studied at Oxford university that it is impossible to name them all and the students that are present now will surely be pivotal characters in the political, economic and literary advances that are sure to come in future years.
But is there a lighter side to Oxford? Is it all learning or is there also a leaning towards the fun side of life? Of course there is, and there is a particular and equally historic feast that is helping the people and students of Oxford do just that.
Hog Roast Oxford– Leaders In Our Field
Hog roast catering may not have the rich tapestry of history that the University possesses but it certainly could teach a history lesson or two, for this is a feast that has been around a fair while. In fact you could argue that it was the first event catering food, with the very earliest use of roasting a hog for gatherings, dating back to Medieval times.
It is very possible indeed that the spires and halls of Oxford were often graced with the presence of the incredible aromas that accompany roasting pig, and this must have been quite an intoxicating aroma indeed.
Perhaps the ghost of these historic hog roast Oxford events still resides in the halls of residence and have haunted the modern students to such a degree that they have given in to the temptation of spit roasted pig?
The evidence would certainly support that because hog roast is very much, now a trendy and popular catering solution with many people these days, in particular the younger generation who can see that this really is something of a delicious yet welcome throwback to times when food was special.
And it really was quite something back in the day. There cannot have been a more impressive sight for onlookers than a huge whole pig being spit roasted over a fire.
Students love the romance of this and they are helping to drive hog roast back into the spotlight with a whole new generation of new fanatics. But how does the twenty first century solution fare in comparison to the medieval version? Extremely well, we say!
Things have come a long way when it comes to event catering, even if in only a relatively short period of time. The people of Oxford and indeed the UK population, have decided that boring and tasteless event catering needs to be left in the past. Now thanks to the Taste the Cracklin catering team in Oxford, a new catering hero has emerged bringing an incredible taste of history to modern day events, though it does not feel old at all. It feels very contemporary.
You only have to watch TV chefs these days to see how they often wax lyrical about the huge importance of great ingredients and fresh cooking to understand that hog roast is just perfect for the modern day diner, but to get a real taste for what that means, you simply have to get stuck in!
If you have never been to a hog roast event then it is high time you got yourself invited to one, or better still organise an event yourself, because it really is an experience that you will never forget.
Bring us in to cater for your event and you are guaranteed not just a hassle free event where you can enjoy yourself but you and your guests will enjoy some of the very best meat you will have ever tasted.
Picture this; a huge bronzed pig that has been slowly roasting for six hours. It smells incredible, like the best roast meal you will ever have. It looks fantastic as if you have somehow stepped back in time to the main hall of a castle.
But then you get your first taste of this Oxford classic hog roast and you cannot believe how great it tastes. But don't worry about your guests because there is enough meat to feed each and every one of them, because that brilliant pig feeds over one hundred people.
Hog roast really is an Oxford education, teaching you that there simply is no better catering option for any sort of student, birthday, anniversary, corporate or wedding event. Make sure that you choose a hog roast for your next event. Get in touch today and we'll talk you through the options and see how best we can meet all of your requirements.