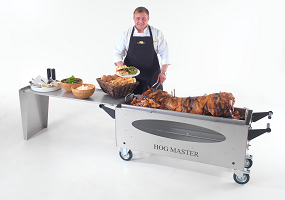 A hog roast is one form of catering which many people will choose not to have at their event because they are worried about what their guests will make of it.
If you love a hog roast then you should be able to have one at your event, without worrying about your guests.
Many people love a hog roast because not only is it fantastic to see cooking but it also tastes much better than people think it does. Our chefs are well versed in answering questions from the public because they aren't used to seeing a hog roast in Peel.
We have a range of different menus available to suit all occasions, each menu has a number of different options allowing you to create your own perfect menu to suit you and your guests.
Premium Dining, Affordable Costs With Hog Roast Peel
There are so many different variations that you can create your own unique menu. One of the fantastic benefits of a Taste the Cracklin hog roast in Peel is that we locally source all of our produce, this means that not only are we keeping our carbon foot print to minimum but that you get the freshest ingredients available, all prepared and cooked on-site for you.
If you would like to find out more about how we can help you with your catering needs. Whether it's a corporate event, with a sit down meal or buffet lunch, a party or even a wedding. We're sure we can create a menu option that fits your needs. Simply get in touch and let us talk you through the options and discuss your needs and requirements.