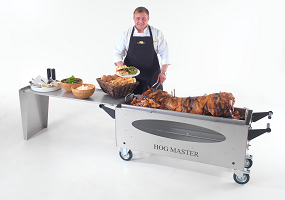 Peterborough is a city dating back to the eleventh century when it was called St Peters Burgh. In 1070 the town and the abbey was burnt down by the Danes but later replaced.
Peterborough has the River Nene running through its centre, and is surrounded by pretty countryside. if you have a celebration coming up then Peterborough is the one for you. A barbecue near the River Nene for your guests. A hog roast slowly turns the crackling glistening in the early evening, and you sit back while we serve you.
Hog roasting is different and offers a range of menus the meat can be anything from pork to chicken; different salads, potatoes prepared to your taste, and a selection of puddings. For an anniversary or barbecue we can also offer a more formal sit down menu or you can cook the hog yourself by hiring one of our hog roasting machines.
Taste the Cracklin has machines that meet all health and safety requirements and we will deliver the machines the following day. On arrival we demonstrate how to use the machine and you do not need to watch the spit roast every five minutes. The secret is that the juices keep the meat moist and the hog roast needs less checking so you have more time to mingle with your friends.
We will also clean up afterwards, so that will be one less job for you to do after your event, or the very next which is never usually much fun. Another question you may ask is what about the plates, well you need not worry, because we supply everything you need.
The Best Hog Roast Caterers Around in Peterborough
Catherine of Aragon who was married Henry VIII no less, was buried at the abbey in Peterborough which later became a cathedral. A well known film director Adrian Lyne was born in Peterborough and he directed short films and TV adverts, such as Jacob's ladder in 1990.
Henry VIII was well known as having a large appetite, we can only imagine that his favourite food was a hearty spit roasted hog, cooked over flames for several hours, much like the way we do things today, except we have more modern machinery to ensure the hog is turned and cooked throughout.
For a day out try Flag Fen an archaeological centre dedicated to the Bronze Age. It has a café and is suitable for any weather, and should keep the children amused for a full morning or afternoon.
For a minimal charge you can visit Katherine's favourite place Longthorne Tower dating back to the 14th century it has a large collection of paintings open for five months of the year.
Try hunting for the ghost Thomas Hunter at the Peterborough Museum or shopping. Peterborough is the ideal place for your event and the people friendly. So come and join in the fun!
If you're ready to find out more about how we can help you with your catering requirements for your medieval themed events, corporate events, parties or weddings. Get in touch with us today and we can talk you through how we can help you and better understand what your requirements are.