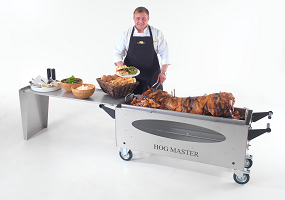 The small town of Pontypool is home to some impressive sports arenas. Everyone knows that rugby is a popular sport in Wales and Pontypool RFC really puts this small town on the map.
The Pontypool Ski Centre provides a different kind of fun for everyone. Nothing beats the winter pastime of skiing and snowboarding, but there aren't many places in the UK where locals have access to skiing facilities.
Luckily, Pontypool's residents can ski all winter and the Centre attracts lots of tourists too.
With lessons for those who need to practice, everyone can enjoy a winter workout on the slopes. What do rugby and skiing have in common? At first glance, perhaps not much, but if you think about it, exercise of any form tends to make you really hungry.
Next time you're really hungry, or next time your sports or leisure club is hosting a get together, why not consider going the whole hog and use Taste the Cracklin's hog roast catering team. Nothing beats filling up on tasty food after a long day practising your favourite sport!
Hog roasting is an awesome way to feed a lot of people very quickly. The actual process of cooking takes a long time, but we plan for that because our caterers are very experienced and knowledgeable about the whole cooking process.
But once the meat is cooked our trained culinary experts dish it up really quickly so that everyone in the party has delicious food on their plate right away and no one is left wanting.
Hog Roast Pontypool – Leaders In Our Field
As hog roast caterers, we roast pig for a living so obviously we love pork, but we know that not everyone shares our passion for this particular meat.
That's why you'll find other delicious meats that we can roast up for you to coincide with whatever you are doing. Whether you choose lamb or chicken, beef or turkey, the meat is placed on a spit and cooked until the juices flow clear and we can cook fantastic vegetarian food too! Food safety is our number one concern, besides cooking fabulous, succulent, juicy cuts of premium meat.
All of our machines are safety tested and certified so you can be sure that not only are you getting a delicious meal, but that your food has been cooked by experts on top-of-the-range equipment.
We are the best in the business and with our local Taste the Cracklin team based in Pontypool, local residents can rely on us for their next event. We also love rugby and as rugby fans we know that one of the great things about rugby, as everyone in Pontypool knows, is the sense of camaraderie that comes with being a part of a team.
As caterers we think another fun team activity is cooking. Lots of people love to barbecue with their friends because it is a really fun shared experience.
But what if the barbecue was big enough to fit a whole pig? Wouldn't it be fun to share the experience of cooking a whole pig with your friends or team mates?
We think everyone deserves the chance to do what we love, that's why we are the best around and have menus and budgets for every occasion that you can think of from Birthdays to Weddings to corporate events we can create a menu for just about anything.
All of our equipment is for hire and we can show you how to do what we love – and we can tell you exactly how to cook your chosen meat safely so that you can relax and have fun while hiring our product.
Nothing beats sharing the experience of a great barbecue and it is even more fun when the method of cooking is a novelty for most people.
Everyone loves to eat fresh delicious food and perhaps none more so than the people of Pontypool. The local Market has a great selection of fresh vegetables and fruits that can accompany any dish.
Whether you rent from us or hire us to cater for you, we are always ready to listen to suggestions as to how to source the food we use. We would be happy to talk with you about how we can incorporate Pontypool's fresh and local fare into our cooking.
For hog roast hire in Pontypool, residents know that they can rely on us to provide a top of the range catering experience for their events, parties and weddings, so they look no further than Taste the Cracklin.
Why not get in touch with us yourself and find out more about what makes us the ideal catering partner for your next event.