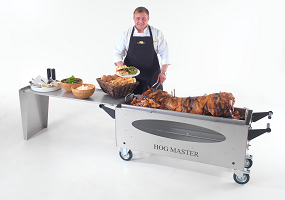 At Taste the Cracklin we take cooking back to basics and cook our hog in a hog roast machine which has been designed so that it roasts in the same way a caveman's spit would have done over an open fire.
Our hog roast machines have been designed for this purpose and will ensure a succulent hog roast every time, you don't need to be a gourmet chef to produce such fantastic food. The only difference these days is that there is no requirement for somebody to spend 6 hours slowly turning the hog. The machine ensures a nice even roast, by slowly turning the meat.
If you want to hire Taste the Cracklin for a hog roast in Portadown, our specialist team can help you with everything you need. But should you choose to manage everything yourself to save money. You can also hire one of our machines, giving you everything you need to cook the perfect hog roast.
Fantastic Food For Any Occasion in Portadown
When you hire one of our machines you will be given instructions upon delivery and you will also be left with an instructional DVD to help refresh your memory. Our hog roast machines can be adapted to cook an array of different meats, including chicken, and deer, so no matter what you want to cook the hog roast machine is ideal.
Our hog roast machines are available to hire across the UK, not just in Portadown. so if your event or wedding is further afield, we can deliver and collect the machine from almost any location around the UK.
Our machines will quickly enable you to cook a fantastic meal with our specialist hog roast machines.
If you would like to talk to us about hiring a hog roast machine, or maybe you would feel more comfortable with letting our team handle everything for you so that you can enjoy your event too.
The first thing to do is contact us by phone or through the website and then we can take things from there.