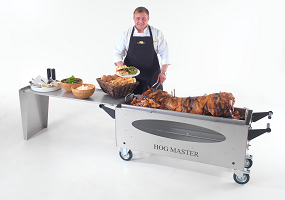 Wild Garlic River? Doesn't sound too appealing, does it? Unless of course you are a huge fan of wild garlic. Anyway, that was Ramsey got its name, from the old Norse for wild garlic river.
Not that the unusual origins of its name has hindered Ramsey's progress at all. Royal Ramsey (as it often referred, thanks to some regal visits over the years) is now the second largest town on the Isle of Man and a very prosperous one at that.
Prosperous places attract important people and business, and for this reason makes corporate event and entertaining hugely important.
Ensuring you make a good impression is vitally important as corporate events can be the birthplace of significant new deals, contracts and life changing business developments. One bad move and years of careful work can be undone in a few hours.
Providing a great meal at these events is one of the keys to a successful evening, and that's where the hog roast Ramsey solution comes into play.
Choosing Taste the Cracklin to provide the catering for your major business events and corporate entertainment is a shrewd move.
Hog roast brings together a number of important elements that will help make a positive and lasting impression on your important guests, and hopefully help edge those handshakes and big contracts one step nearer completion. But how can something as simple as a hog roast help achieve this?
Obviously, your Ramsey event cannot rely on great food alone but the hog roast Ramsey solution can certainly help the process.
The Best Hog Roasts In Ramsey
You want to make a positive impression from the very start. Too many corporate events rely on bland, unadventurous catering solutions that simply play it safe rather than push the boundaries.
From the moment your guests walk in the venue, they will be greeted by the magnificent sight of the hog roast chef tending to the splendid hog roast machine. This is a quite glorious sight that lays down a powerful marker for the evening ahead.
This certainly makes a pleasant change to the standard events where venue staff emerge from kitchens with food already cooked out of sight. Here you are letting your Ramsey guests see everything cooking close up.
Then there are the aromas that will be filling the Ramsey venue. The slow roasting of the hog roast produces a stunning aroma that makes the mouth water and simply heightens the sense of anticipation surrounding the meal.
If you have tasted hog roast previously then it may have been at an informal event with rolls and sauces, but hog roast is the ultimate catering chameleon and can transform itself from carry in one hand meal to the ultimate in gourmet dining. Hog roast, once carved and served looks as good as any meal in a top restaurant.
Add the apple sauce, crackling, vegetables and potatoes and you have a delicious plate of food that will stay fresh in your Ramsey guests' memories for a long time. Just don't be surprised if you attend a function they arrange to see hog roast on the menu too!