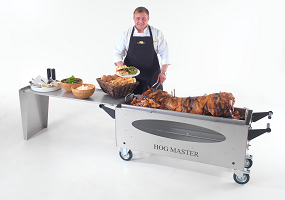 Being a Taste the Cracklin chef, you are never stuck for things to do. Redhill has a brook called Redhill Brook, The Moors nature reserve and lakes will please countryside lovers and walkers alike. It has a shopping mall found in the town centre.
There are many stories about how the name Redhill came about. Originally known as Warwick Town after Warwick Road in 1856 the post office moved and it became known as Redhill. The introduction of railways also played an important factor.
Now let's imagine you live in Redhill and are having a party to celebrate a fifth birthday and want something a little different try a hog roast.
Maybe a barbecue your partner is no good at barbecues and to mark this occasion you just want to relax without having to worry about burnt food. Taste the Cracklin is there to help you. We will cater for your needs make your dream a reality. We can supply anything from a traditional pig roast to turkey if that is what you want.
We can make it formal or informal the choice is totally up to you. We have a long standing reputation for succulent meat, vegetables, rolls our menus are set but can be adapted to suit your taste.
We can make that do a little bit special how about being served drinks to start the evening. Hog roasts can include addition barbecues, desserts and canapés if required. We will make this evening run smoothly and use only the best pieces of meat- if you want it extra crispy tell us and we will speak to the chef.
If you run a pub you maybe you are having a charity do or you maybe have won an award and want to celebrate. We can step in and do the work for you.
After the event you may feel like going for a nice walk, details can be obtained from tourist information. For something different our arts and craft market or shopping centre.
A Hog Roast Is Perfect For Any Party in Redhill
More local history did you know a famous painter John Linnell came to live in Redhill purely by chance.
His most famous painting was called,' The Quoit Players.' He was 16 or 17 when he painted it. The painting sold to a Sir Thomas Baring for the sum of 75 guineas which was quite a bit of money back in those days.
Whilst waiting to change trains in 1849 John Linnell and James his son were on the way to Edenbridge to look for a site to build a house.
He was at 55 a wealthy successful painter whilst walking the amazing views in Redhill tempted John Linnell to buy eleven acres of land from the owner a Mr John Alsop who worked on the Stock Exchange.
He bought the land and set to work and completed Redstone Mansion. By 1862 he bought another 63 acres including the Chart Lodge Estate.
From 1852 – 1865 an amateur astronomer lived in Redhill is name was Richard Christopher Carrington on September 1, 1859 he saw a solar flare from his observatory this was corroborated by another amateur astronomer and made him famous.
Maybe you traveled down for the wedding and are staying for the weekend try Belfry shopping centre everything from the Body Shop to Water stones.
After the party or event come and talk to us we are always interested to hear your views on how you think the event went and what we could even improve on we love feedback from our customers because we believe this is the only true way that you can improve.
Taste the Cracklin get along with the hog roast caterers fine that combined with the magnificent countryside a job in the open air is great. Sometimes it rains we joke about it and carry on.
There is a mix of locals and famous people so if you fancy bumping in to the Chuckle Brothers or many others. Past residents include Edwina Currie who left in 2007 famous and Carry On Film actor Bernard Bresslaw.
All our meat is picked from the highest quality sources and cooked the way you want. If you prefer something different we can also create a menu to suit your needs and your budget.