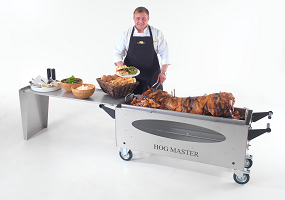 With a high population of approximately 22, 300 in Surrey, Reigate as one of the towns is a historic market town in Surrey a great place for caterers, its history dates back to just after the Battle of Hastings.
Did you know that William the Conqueror awarded one of his favourite knights William de Warenne the land that today we know as Reigate? and later in 1088 he was made the Earl of Surrey.
Taste the Cracklin cook the meat to perfection, and can serve the meat with potatoes and vegetables for a wonderful roast. If you are wanting a tasty treat and want a snack try a hog roast in a roll our beautiful pork rolls will leave you and your guests stunned watering at the mouth.
Choose from our range of meats and salads or for vegetarians maybe a quiche or stuffed peppers. Talk to us we are there to make that celebration a special or you.
We do all the work whilst you sit back and relax. We can provide food for any occasion from a retirement to corporate events being so versatile gives us the chance to be able to cater at more events which is what we enjoy and love so much.
Get ideas from our website and come and talk to us at Taste the Cracklin, we pride ourselves on our listening skills and our ability to deliver, what the customer wants.
We have a menu to suit everyone so if you have a smaller budget come and see us, and we will see what we can do there is always a menu to suit everyone.
After the event you might be staying the night so why not check out the popular tourist destinations in Reigate If you prefer real ale try our local pubs. As Reigate is such a historical town there is plenty to do try looking around the remains of the castle or read up on the history of The White Hart.
It is rumoured in 1851 the last meeting took place Lord Byron's wife, Annabella, and Byron's half sister called Augusta. It is said that Annabella wrote on the memo what she wanted to discuss and that it still exists.
If that doesn't suit try Reigate Priory or one of Reigate's two windmills. Another little snippet is that Reigate was used as a setting for Sherlock Holmes short story The Adventure of the Reigate Squire and the story is used in The Memoirs of Sherlock Holmes.
The Best Hog Roast Caterers Around in Reigate
Taste the Cracklin can supply tableware and desserts you supply the guests Aunt Dot who still kisses you on the forehead even though you are 42. Gwen who after four glasses of wine wants to sing Second World War songs or even Lindsay the vegetarian we cater for everyone. It maybe Sara on her fiftieth wants Spotted Dick and custard fine we can sort that out.
Watch out for the ghosts at your chosen venue in Reigate, just a warning at Reigate Priory a 12th century priest haunts the Priory. At St. Mary's Church it is claimed singing has been heard after hours and a girl has been seen walking up the churchyard path.
You might ask what are the people like – friendly with a funny a sense of humour. An example is the story of a parrot called Charlie that is rumoured to have belonged to Sir Winston Churchill.
The story states that Churchill apparently taught the bird use obscene language aimed at the Nazis before it was returned to its former owner on Churchill's death.
Charlie lives in a garden centre in Surrey the owner is Oram, who claims that his father-in-law sold Charlie to Sir Winston Churchill in 1937. Experts have dismissed this idea.
What can be confirmed that Winston Churchill did visit the town and held important meetings with both Navy personnel and his Cabinet Ministers.
Churchill liked to eat and so do I, don't worry with our hog roast you can also choose desserts cheesecake or maybe a cheese platter. One of the chefs does a good impression of John Cleese and it is this sense of fun that means it helps us give you service with a smile. It gives us pleasure when we see our guests enjoying themselves.
We would love it if you came over afterwards and told us what you thought we would love to hear from you. If you are new to Taste the Cracklin, give us a call and we can go through the details. We are sure when you hear what we can offer you will be interested.