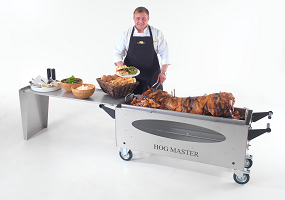 Named after the local quarry that once supplied the maritime industry, the picturesque village of Rock is located on the River Camel estuary. In recent years the area has become a popular holiday destination for Hollywood celebrities and even for members of the Royal family.
Locals well understand the allure of the village. Rock mostly enjoys pleasant and mild weather year-round. It is also home to a beautiful stretch of sandy beach and the bay plays host to a number of water sports and activities.
Locals and visitors alike can enjoy the hospitality of several 5-star hotels and restaurants, as well as the variety of small boutique shops that dot the village.
What you won't find on most tourist websites is information on the delicious hog roast Rock has to offer. That's where we come in. Taste the Cracklin are the premier hog roast company in the area and we can cater to the culinary needs of all of Rock's inhabitants – locals and tourists alike.
A hog roast brings something special to almost any gathering. We are certainly happy to cater for any occasion, so if you think a traditional hog roast caterer might add excitement to your event then feel free to contact us for more information.
We can deliver the most succulent and juicy, not to mention satisfying, catering service, that Rock has ever seen. Our secret is that we use the absolute latest in technology and pair it with the special expertise of our trained chefs.
Our cooking process delivers excellent tasting meat time and time again because we really know how to cook great-tasting meat. We source our pigs and other meat and produce from suppliers that we know and trust, but we are always willing to work with you if there is a local supplier that you would rather we work with.
Whether you are a connoisseur or a hamburger fanatic, we can create a spread that will make your mouth water.
Rock's calm seas make for a great crossing on the Black Tor Ferry. This means that even if you are staying elsewhere in the region, the charms of this little village are only a boat-ride away.
Boats are a common sight in Rock, where popular pastimes include sailing, canoeing, and rowing. The area is also a popular spot for sea-Angling, with many locals engaging in the pleasures of fishing.
Popular with tourists, and with the more adventurous locals, are the slightly more exhilarating sports of windsurfing and water-skiing.
We know that spending the day at the beach, engaging in water sports, is one of the best ways to pass a summer's day. What you may not know is that a succulent hog roast is one of the most satisfying meals you can eat after a long day in the water.
Great Food For All Occasions in Rock
Taste the Cracklin are the hog roast specialists and we can let you rent out one of our machines for your next day out. We have two sizes of machine depending on how many people you want to feed.
When you hire us to cater your event you can choose one of our delicious set menus, or we can work with you to create a more unique menu for your special day.
Our speciality is obviously pork, and we roast the whole pig right there on the spit for you to see the exciting process. You can choose beef, chicken, turkey or lamb if you don't fancy pork, and we can cater for vegetarian dishes.
The simplest menu we have is slow-cooked pork sandwiches; this is a great option for informal lunches, parties and gatherings. We can also cater a sit-down, four-course meal and we can provide crockery, silverware and drinks as well as our signature dishes.
When choosing Taste the Cracklin, residents get the freedom to also choose the menu. Whilst you can always choose the food that we prepare for you, renting one of our machines means that you can have even more control over the menu and the cooking process. As well as the ability to roast meat on the spit, you can use the grill function to prepare side dishes and sauces.
We can show you how to set up the machine and how to use any add-ons so that you can cook exactly what you want. A hog roast is a special sort of feast, one that brings people together and it can be equally enjoyable in the summer or winter. Contact us today and we can discuss the many options available.