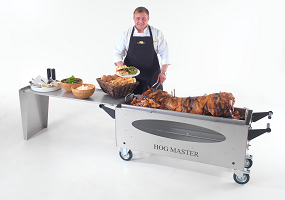 Sometimes, rules just have to be broken. And when that happens, sometimes something remarkable can happen. Take a certain William Webb Ellis. Back in 1823, young Webb Ellis decided to catch and run with the ball during a game of football.
The rest is history and Webb Ellis will forever be known s the inventor of rugby, so named after the school he was attending at the time, Rugby School.
A lot has changed since then, not least the shape of the ball and rugby is now a popular game throughout the world, all thanks to Webb Ellis' deviation of the rules.
Hog roast is not so much a rule breaker but a game changer. Hog roast is shaking up the old order when it comes to catering options for big events and functions. In fact you could call it the hog roast Rugby rule changer.
Taste the Cracklin is not simply about sport. Rugby is just one of those towns where you can see hog roast making a great impact in the party and function world.
This Warwickshire market town of nearly seventy thousand people is just the sort of place where you will find many different events taking place throughout the week, from corporate entertaining to good old family get togethers. Maybe, just maybe there is another Webb Ellis out there planning to reinvent a different game?
So is there a Taste the Cracklin hog roast revolution? Time will tell but all the signs are good. It's easy to see why this form of cooking is starting to become so popular as a catering solution for any sort of event as it is so extremely versatile.
You'll Be Spoiled For Choice By Our Menu Range in Rugby
Supposing you are planning a twenty first birthday celebration, you just know that the young crowd aren't going to want to settle for the same old party food that they have had (and not enjoyed) a thousand times before, so what do you do?
Hog roast can give a younger style function a real contemporary feel instead of the seventies or eighties 'old' retro style that the younger crowd really don't care for.
It is fashionable (which may seem odd when you talk about a medieval feast) and is something that will get many nods of approval from the younger Rugby guests.
It isn't just a party food though. An industrious town like Rugby will see its fair share of business events and corporate functions, too. It is perfect for Rugby events like these.
For a start, it's an impressive looking feast from the moment your Rugby business associates walk in with the Taste the Cracklin chef carefully tending to the slow roasting whole pig on the hog roast machine.
This slow roasting fills the air with incredible aromas that everyone adores. Then there's the taste, of course. Hog roast is delicious and will certainly be one of the tastiest corporate event meals your guests will have enjoyed.
Go on, break a few rules and give hog roast the chance to liven up your Rugby event.