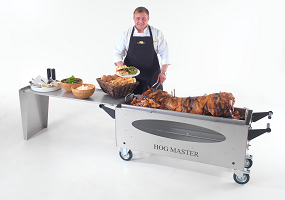 This weekend the Taste the Cracklin team headed to Sawbridgeworth to cater for a corporate event.
I love catering for corporate events because you always meet lots of very different people and this event was to be one of the best.
If you're not familiar with Sawbridgeworth, it's a beautiful, small town in Hertfordshire. It's very pretty and traditional. There are lots of chocolate-box style homes and gorgeous, ornate buildings.
I don't think we saw one ugly street on our travels through the town. Also, on our way to the hotel where the team were catering, we saw the canal, with all the barge boats; it reminded one of the waiting staff girls of Rosie and Jim, the children's TV show!
Sadly, we didn't see Rosie or Jim in Sawbridgeworth, but we did end up finding out a lot about the town in the end because the corporate event the Taste the Cracklin team were catering for was actually full of historians who, naturally, knew lots about the town.
We met one man called Richard. He wasn't really what you'd expect an historian to look like. He was quite young (mid-thirties) and he told us that Anne Boleyn actually had a property in the town once.
Richard also told us that most of the buildings in Sawbridgeworth were listed and that most of the buildings were from the Tudor, Stewart and Georgian periods.
I think Richard was impressed with our company because he was a vegetarian and I think he thought that a hog roast company such as Taste the Cracklin, wouldn't supply a vegetarian option.
He joked that he'd packed up his own food and had it in his car. I don't actually think he was joking. Our vegetarian options are just as good as our hog roast, meat options. Richard said he enjoyed the new potatoes best and wanted to know what was in the herb sauce. But a waitress must never tell the chefs secrets and my lips were firmly sealed!
I should say at this point that the historians had chosen Menu 4 for their event. It's a great menu because you get so much to choose from. There's lamb, turkey, chicken, beef and pork.
The historians had opted for the spit roasted pig served with apple sauce, stuffing and crispy crackling; delicious. I think this was a great choice for this corporate event because it's such a crowd-pleaser.
There's something exciting about seeing a spit roast, isn't there? Everyone is fascinated and people always come up to watch the chef cooking.
Superb Servings For Sawbridgeworth
For this event we had put the Taste the Cracklin hog roast machinery on the patio, just outside the hotel French windows. There was a marquee overhead and some tables and chairs on the decking.
Big, candles had also been lit and the place looked great. Although it was cold out people loved coming out to watch the cooking. At one point I think we had more people outside than in!
Whenever we do these events in winter people say they are surprised that we do hog roasts at this time of year because they always think of them at things like festivals, or summer events.
Yet they then go on to say that it's actually a great idea! I think people like to come out and feel the warmth of our machines, as well as smelling the gorgeous food. Also at these sort of events, where people may not know each other very well, a hog roast is especially good because it gives everyone something to talk about.
Although the meat was cooked outside, the waiting staff had laid all of the buffet food on a big trestle table inside. There was big bowls of green leaf, tomato and basil salad, tubs of fluffy rolls for the meat, warm new potatoes and a rainbow of different sauces.
When the food was ready to be eaten I stood at one end of the table and handed out the plates (we provide real crockery because there's nothing like eating off of a real plate!). Everyone had piled their plates really high and couldn't get back to their seats quick enough to eat it!
After everyone had had their fill, some coming up for seconds and thirds, we did a grand job of tidying up. It's important to be really efficient when you tidy up because you don't want to impact on the night or ruin the mood for the guests.
Our team are such pros though we had everything stripped and tidied before the guests could even notice.
And then, once the van was packed we waved goodbye to our historian friends and drove off into the Sawbridgeworth night.