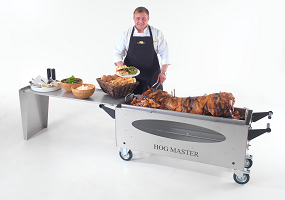 At Taste the Cracklin, we offer an expert hog roast service across Sevenoaks and rest of the UK from our regional depots across the country. You will be sure to find a Taste The Cracklin hog roast available near you, just get in touch and let us know where you are.
At Taste the Cracklin, we also offer a very popular hog roast machine hire service along with our famous hog roast catering, providing you with everything you need for a hog roast in Sevenoaks.
Our hog roast machine hire service allows you to be the one in control, you can cook any meal you like for your event and you will be able to impress your guests with your excellent cooking skills.
When you hire one of our specialist hog roast machines you will be shown how to use it when you take delivery and you will also be left with an instructional DVD so that you have everything you need.
Artisan Hog Roasts And Creative Catering Menus For Any Sevenoaks Event
A hog roast is great catering for any event and what could be better than being the one cooking on a hog roast machine.
You can be a novice at cooking or a gourmet chef, you will be able to cook a fantastic meal on one of our specialist machines. We offer a fantastic hog roast Sevenoaks service which you can enjoy by manning your own machine.
With a range of menu options, which also include the options on the meats we can cook for you. There is sure to be something for everybody, designed to meet all tastes and expectations.
If you would like to find out more, simply give us a call today, or contact us through the website and we'll talk through the available options and get some more information about your event so we can see how best we can help you with your event.