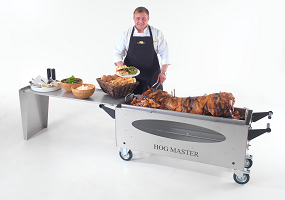 A city of Sheffield's size is undoubtedly going to be home to a huge number of events throughout the year, a large number of which are going to be events such as birthday bashes, wedding anniversaries, Christenings, wedding breakfasts or work based corporate events.
Catering for these sort of events is big matter in these parts, so if you live in the Sheffield area and are investigating putting on a special occasion of your own, it might just be time to go back in time for a little culinary inspiration and that could come in the very pig like shape of a Taste the Cracklin hog roast in Sheffield!
Now let me guess, you are now in a state of shock at my suggestion, though I can see no reason why. After all, a it's going to prove very popular with all your friends and guests. Hog roast is after all one of the trendy ways to cater for any special occasion, you know?
Perhaps your shock is at the fact it's such a traditional old meal that you don't think would be go down so well with a modern, twenty first century party crowd. Well, if that's what you think then it's time that you got out more.
Just think back a few years to the sad and bland offerings that were usually served up at special events and functions round here. How many more times can you really tolerate sad sausage rolls, limp salads and simply awful sandwiches.
Believe me when I say that a Taste the Cracklin hog roast is the answer to all your event catering needs.
The fact that it was a creation of Medieval times does not matter one jot. What does matter is that Taste the Cracklin can transform your event into something quite amazing, and in hog roast you have a thoroughly modern solution to the age old problem of finding decent food for special events.
Hog roast is one of the most versatile catering options out there, and I don't mean that it's just suitable for Blades or Owls supporters. It can really meet the differing needs of your occasion.
The Best Hog Roasts In Sheffield
Let's assume that you are organising an event for fellow university students. You are going to have a big crowd and they all want great food, but they don't want a sit down meal. For these sort of events, it simply has to be hog roast rolls – the perfect food for any party occasion.
Lashings of the best tasting meat together with some apple sauce and crackling creates the very best hand held food you will ever taste. Roll in one hand, bottle of lager in the other. Now that is what I call versatile!
But we all know that not all events are quite so loud and lively. It may be that you have to arrange for an event that is a bit more formal in manner. Corporate events are very popular and our hog roast is more than capable of delivering the goods when it comes to such events.
Now, you are probably thinking that there is no way on earth that you can serve pork rolls at an important corporate event, and you would of course be quite right. We would never suggest that.
However, there's more than one way to cook a pig and more than one way to serve it, too. Ever heard of gourmet hog roast?
Well, you should because this is pig at its most formal and most posh. The chef is as versatile as the meat they are cooking and knows just how to get the very best out of hog roast at a formal event.
By professionally carving the meat, the chef can create the ultimate in exquisite platefuls of gourmet meats that would not be out of place at any top Sheffield event. Some potatoes, crackling, vegetables and apple sauce simply complete what is a perfect plate of food.
One last thing you should know is that it really does spread the love when it comes to feeding people. You would rightly expect a whole pig to feed a lot of people, but we are talking over a hundred servings from a single standard sized pig! Better add some guests to that list of invites!
Go on, make it a Sheffield occasion to remember with a superb hog roast from the team at Taste the Cracklin.