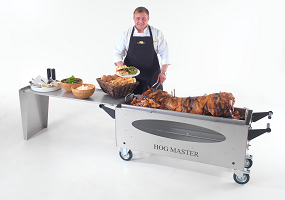 For the perfect hog roast experience in Shrewton why not give Taste the Cracklin a call and we will be able to cater for all of your needs. This could be for a wedding, corporate event or maybe even a Jubilee-style street party.
Our chefs have all the skills and expertise to truly liven up the party and bring you a spectacular hog roast in Shrewton. Your guests will be wowed by the food on offer and the variety available will amaze even the pickiest of eaters as we cater for every palette.
With a number of staff available for your event we can ensure you truly feel content as we wait on your guests and keep things running smoothly.
If pork isn't too your taste then we can offer chicken, turkey, lamb or beef which our chefs are equally as adept at roasting. Aside from the main course we also bring a selection of freshly made appetisers which comprise of salads, finger foods, cuisine from foreign lands and many more options.
For those of you looking to have a private party then you can hire the spit separately and have your own personal hog roast.
This will definitely break the ice with any new neighbours and liven up the street party you have been thinking of throwing for a while! There is also the option of buying a pig to roast from us, but that will cost a little extra.
If you are looking for value for money in giving a bit of a 'wow' factor to your next party, function or meeting, you are most definitely in the right place!
At Taste the Cracklin we specialise in dealing with weddings and have made a reputation for the fantastic food and service we offer on your big day. Our staff have catered for weddings across the Midlands and are only too aware of the importance of getting everything right.
Brilliant Buffets In Shrewton
When we cater for a wedding, you don't just get Taste the Cracklin's food, you also get our years of experience in dealing with every possibility that can be thrown up by a wedding a great service too.
We have a wide variety of menus to cater for every possible event, but if you are looking to hold a broad ranging party then we would recommend our Snack-in-a-Roll menu which can cater for anything between an intimate gathering to an event with over 5,000 people.
This could be for those who just want a convenient snack and those who are looking for a large meal. The menus we have are entirely flexible so if there is something you see that you'd like included please let us know and we'll be happy to help.
We keep a close eye on the monthly Shrewton farmer's market for the very best local meat; from the quality of our animals to the efficiency of our service on the day.
Our catering team has founded its reputation on planning every aspect of our bookings to make sure we play a significant role in creating occasions that will linger long in the memory of all those present.
There are a number of fine real ale breweries in the area, and several patrons of their open days have remarked that the savoury delights of our roasts are an ideal accompaniment for a rich porter or sharp, hoppy pale ale.
A Taste the Cracklin hog roast truly is an event that will stay in the memory of your friends and family and we pride ourselves in the skills our chefs have.
For further information on holding your own hog roast, enquire today and we as more than happy to help you.
We are especially busy in the summer months when outdoor parties and weddings are seeking high quality catering with a touch of the theatrical. However, we operates all year round and our mobile units have the facility to be fully functional indoors and out, whatever the weather.
Our team arrives with fresh produce kept in refrigeration while in transit, preparing, cooking and serving our food.
Our machines, which are at the cutting edge of hog roast technology, are also available for hire. In a town noted for its manufacture of blankets and gloves, our melt-in-the-mouth roast pork, contrasted the satisfying crunch of our impeccable crackling is firmly establishing itself as another method of keeping Shrewton's residents warm.