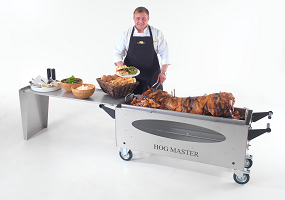 Sidcup is another of those towns whose name seems to have some rather strange origins. Apparently Sidcup is derived from 'seat shaped or flat topped hill', which sounds like it refers to the geography of the town.
Sidcup is not a million miles from the capital and is there a very popular commuter area. But what about Sidcup itself? When the people relax and entertain, what is their food of choice? Is it boring old options or Taste the Cracklin's hog roast catering for your event?
Taste the Cracklin would be far more likely, I feel. The people of Sidcup will no doubt have their finger on the capital's when it comes to the latest trends and one of those is the increasing appeal of hog roast for functions and events.
Making your event a Taste the Cracklin event is a wise move. The chances are that you and many of your friends will have been to events in the past such as birthday parties, wedding receptions and corporate events and have been bitterly disappointed by the food that was laid on.
It is sometimes almost as if the food was a last minute addition rather than something where a lot of thought has gone into its choice.
Perfect Food For Sidcup
You do not have to put up with poor food at your event. By choosing hog roast for your function you are showing your guests that you really do care about every aspect of the event and want them to enjoy every moment. But why is it the answer when it comes to catering for your event?
For one, a hog roast tastes like nothing else and oozes quality, regardless of how you serve it. Many people encounter them for the first time at informal events such as a garden party, where the meat is served on rolls, and it tastes brilliant.
It's a quality party food that is loved by all ages, so if you want a portable party food for your event, hot hog roast rolls are the answer.
Then again, maybe you want something a little more formal? You don't really want rolls at a prestigious charity or corporate event. Instead you want something a little more gourmet themed.
Taste the Cracklin can fulfil that need, too. You see, the hog roast chef can serve up your hog roast in a totally professional style that looks like it has just been served in a top city restaurant.
Hog roast tastes great because it is slow roasted. Really slow roasted! The chef slaves over the hog roast machine for six hours to ensure that all the flavours in your Sidcup feast come flooding out in the taste.
Tender, succulent and juicy meat like no other, in fact it will probably be the best meat you have ever tasted. And did I say how fantastic the whole hog roasting process looks? It really adds a touch of class to your event and will add to the whole occasion.
So, don't let food be a last minute decision for your Sidcup function, make Taste the Cracklin's hog roast the centre attraction.