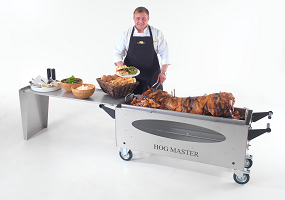 Sindlesham, like many places in the region, is a real treat to live in. Like surrounding areas, Sindlesham has its own long history, it's reckoned that there's a local chapel which was built way back in 1220.
There's also a hotel, which we've had the privilege of catering at, which was constructed in the 19th century.
But being a pretty small village, many places in Sindelesham were developed more recently, like the Bearwood and Lakes golf courses, or the Spa health club in the village, there's also a Masonic Centre in Sindlesham Court.
And even more recently is Taste the Cracklin, Sindleshams hog roast caterer. One of few professional catering outfits in the area, certainly the only elite hog roast choice for your event.
We're always on the look out for new clients, new events especially, but the last few years we've had a good number already and that's kept us busy. Each week a chef or whole catering team drives to a different part of Sindelesham and will work hard to create a sizzling roasted pig with all the trimmings.
What we love more than making hog roasts is meeting and having the pleasure of working for and with so many great people, some local, some from outside the local area.
It's a true joy to come to work knowing that you'll get to do what you love, hog roasting, and then you'll meet loads of people who also love eating what you've made.
Being in a job where you can see clients and how much they enjoy the food as they bite down on a hog roast roll, it's just great.
Clients get stuck into all types of roasted meats, there's everything from roast beef to lamb or poultry, and it doesn't need to be spit roasted as we're just as capable as making tray roasted meals when we're at a local event.
Tailored Hog Roast Catering In Sindlesham
The choice of spit or tray is all yours, as standard the menus we have are for spit roasted meats, but if for whatever reason a tray roast is the preferred choice then we'll do that – and they'll taste just as good.
In fact, going one better than taste, they'll also have the same theatre-like feel as the machines used have a clear glass panel, allowing the food – whether hog or turkey – to be seen as it cooks, just as with spit roasting.
Ever since we've been catering, people have been coming to us and asking us how we do it, and not only have we told them, we've also been more than happy to accommodate their requests to get their hands on our machines.
We realise that buying a machine is out of the question, and it would be profound to buy a machine for just a one off event, with that insight we made the move of creating hog roast machine hire, and it's gone down a storm with everybody who's taken the opportunity.
We've had clients who've enjoyed hog roasting so much and hired so often that they've gone on to buy one from us, it's addictive making such good food.
There's a selection of hog and spit roast machine models to be hired, each and everyone of them created by us, for us – and our clients, of course! For those who know hog roasting, they see quickly the superior quality of the machines that we've created.
The machines can be delivered all throughout Sindlesham, so long as there's access for a vehicle to access the venue. As the client you get to choose from different machine models, different length for hire, delivery date, and the food you cook is also entirely for you to decide.
Although if you intend to cook pig you can buy one from our stock if you're after the true Taste the Cracklin taste.
If instead you want the Taste the Cracklin catering service and all the added extras that come with it, a whole waiting team for your event, even an individual to run a drinks bar over the course of the evening, then Taste the Cracklin catering is for you
It's the mix of fine food and fine service that makes it so good, even if you can make it just as good, we're sure you'd rather relax and have us do it for you.
Have a look around the website then call us for a quote when you see something you like.