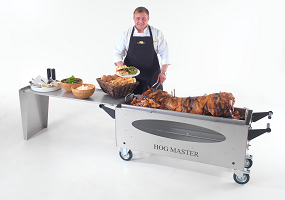 Port town's can be the heart and soul of a region, pumping life into the economy and being a focal point for industry. Despite the economic turbulence that has been affecting the whole world, some places have managed to ride the stormy seas and actually grown stronger and more prosperous. One such town is Sligo on the west coast of Ireland.
Sligo is Ireland's most northerly port on the Atlantic and one of the fastest growing regions in the country.
Home to over nineteen thousand people, things are looking good for Sligo and its people.
With prosperous times comes the growth in events, functions and celebrations.
After all good times breed more good times and the people of Ireland have always know how to celebrate properly, so what do the people of Sligo like to dine on at these fine events.
You may think that, for a major port town, the Taste the Cracklin hog roast scenario would be a little odd. After all, there must be an abundance of great seafood available in these parts.
Well yes, and I have no doubt that seafood is very popular, but hog roast is making a big name for itself in Sligo and the rest of Ireland as the first choice for any big event.
So what is the reasoning? What makes it such a fantastic choice for corporate functions, wedding receptions, birthday parties and marquee style events? Just what is Taste the Cracklin's secret?
Only The Best Will Do – Hog Roast Sligo
Well, there is no secret, just a bit of common sense. You see, hog roast has been serving something of an apprenticeship since medieval times. Don't forget that it was often served at grand events and banquets, with many lords, ladies, kings and queens among those who would savour the flavour of hog.
Sadly, it has only been in recent times that hog roast has started to make a name for itself once again, with more and more people choosing to book a Taste the Cracklin hog roast for their main event. After all, if hog roast is fit for kings and queens then why not for the rest of us?
It's certainly an affordable feast. Did you know that the typical hog can serve over one hundred hungry diners? That really is some going and may allow you to send out a few more invites that you had originally planned.
A Taste the Cracklin hog roast looks the part, too. There is something special about seeing a huge joint of meat slowly being cooked before your very eyes.
Of course, this is a whole pig, so it looks even more impressive for your diners and certainly makes you think of those medieval feasts where a roaring fire cooked the hog.
As for the taste, your guests need not worry. Lovingly and slowly roasted hog roasted tastes utterly superb. Try as you might, there will be nothing you find that matches these flavours.
So, make sure your event goes with a bang by booking Taste the Cracklin's Sligo hog roast chef.