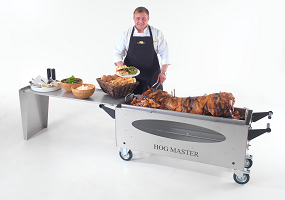 The beautiful and sun-drenched county of Somerset is known for many things and famed for even more. Since the early Saxon settlers who arrived here in 850 AD or so, the place name of Somerset was given in order to refer to the term 'Summer Settlement.'
Aptly named as well, as places like Chirbury make you feel like you're abroad sometimes, where it is generally perceived to be much hotter. Go into Bath to see one of the most beautiful towns in Britain, synonymous with leisurely living with a backbone in industry also.
As the purveyors, providers and suppliers of the finest hog and spit roast catered events in the whole region, Taste the Cracklin's love for Somerset cannot be overestimated at all. As a place in itself, the area has a very strong link towards sourcing and creating its own foods.
Almost a micro-state of its own when viewed through a culinary lens, the beautiful rolling hills in Somerset yield some of the most exceptional produce around. A few hundred years ago, Britain plentifully yielded hundreds of kinds of apple – great for ciders and apple sauce for our pigs.
Today, however, there are much fewer apple varieties left – mainly due to the intensive requirements which supermarkets exert. However, in Dulverton you can get a huge variety and there is still a huge local framework supporting cider made locally.
Echoed in towns such as Godney – it is clear that the people of Somerset don't mind taking their time and doing things in the time honoured manner.
Naturally, by using great local meats on our spits, together with sauces created with local apples, our services are a hit in Somerset, from Shipham, through to other such leafy and hilly parts as Alton.
If you are planning an event and you're thinking about bringing an element of the exotic and the slightly out of the ordinary to the proceedings you could go a long way worse than hiring in a hog roast from Taste the Cracklin for your event.
There is something inherently satisfying in the concept of this traditional medieval cooking style seeing a revival within the historic county of Somerset, with its roots trailing right back into Anglo-Saxon times.
Join your guests in their grins of satisfaction as they watch a whole hog turning on the spit, catching the gentle drifting aromas of the tender flesh cooking evenly through and watching the skin pucker into the perfect pork crackling before your very eyes.
Particularly ideal for outdoor events, alongside activities that could be as diverse as watching jousting re-enactments, enjoying live music at an outdoor stage or watching the young ones battling it out in an egg and spoon race, where the choice of food or catering needn't dominate or direct the audience's enjoyment of their day.
A hog roast allows an event organiser's guests and customers to appreciate good quality 'pick up and go' food, in the form of 'pig in a bun', delicious slices of hog roast in soft, fresh bread, or, if they choose, to take their time over a sit down buffet, supplementing their prime cuts of pork with apple sauce, stuffing, crackling and selections of salads and side dishes.
It really is an ideal alternative to the regimen of fixed course catered meals or the ubiquitous takeaway staple of the 'burger van'.
Of course the county of cider apples could be expected to be the ideal location for enjoying the best quality locally produced apple sauce to accompany the hog roast turned to perfection on a slow roast spit but pig sandwiches certainly aren't the only choice on the menu when it comes to spit roasting.
Taste the Cracklin also offers mouth watering minted lamb served with English mustard, festive turkey with cranberry sauce, sage and onion garnished spit roast chicken and traditional British favourite roast beef with horseradish sauce, alongside a selection of side dishes and vegetarian options.
The scale of your event needn't provide an issue either, our menus can be tailored to suit your needs, perhaps meaning as little as hiring a spit roast machine to operate yourself, with just a single joint of meat cooked at an even and easy to monitor rate, right up to a fully catered spread with starters and desserts alongside the talking point of your spit roasted main course.
Taking the job of catering in hand by hiring a spit roast machine may even allow you, as the event organiser, to raise a little much-needed revenue to pay for the entertainments by selling 'pig in a bun' sustenance to your audience (or should we say 'happy customers'?)
So if you're thinking of an event on a scale to rival the literature or jazz festivals or simply planning a humble affair to entertain the neighbours in your own back garden, we can keep you covered.
The Taste the Cracklin machine hire scheme also offers a selection of hire methods, from simply hiring on a per event basis or, if you're a budding impresario, hiring by the month for you to use at as many events as you see fit.
Each hire package offers training and advice on using the equipment, as well as the gas you will need to fuel the machine, and packages are available that can provide a myriad of extras, from bread rolls to training sessions to extra garnishes.
If you really get attached to your hog roaster (and there's little reason why you wouldn't!) deals can be done on to deduct hire costs from the cost of purchase.
Then you too could be spreading the word about the joys of hog roasting around the highways and byways of Somerset, beginning a career in micro-entrepreneurialism in the most lip-smackingly delicious way conceivable.
Even if you don't fancy the idea of hiring yourself out as a caterer for functions left, right and centre having your very own slow roast rotisserie permanently to hand could lend you that little extra reassurance when planning an event that catering is one thing you definitely have sorted.
It might not quite be cider making but, as traditional pursuits go, enjoying spit turned hog roast with family, friends or the guests at your very own event is hard to beat and a tradition well worth starting.