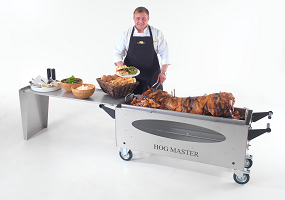 If you are looking for a unique form of catering for your event you may struggle because most options for event catering are very popular and will be seen at a number of events each week.
It isn't unknown to attend an event to find a buffet has been provided or a sit down meal catered by the venue, these options can provide options from a number of different cuisines but have been seen many times before.
If you want catering for your event which will wow your guests then look for a hog roast in Southampton.
Then Taste the Cracklin one of our most popular services providing tasty hog roast catering to guests at events across Southampton and the rest of the country. our catering is suitable for a range of different events from informal parties to weddings and corporate events.
Most Mouth-Watering Hog Roasts In Southampton
You don't need to worry about having a hog roast machine at your event, they often attract a lot of attention due to people not seeing them often, and our chefs are used to answering questions in regards to our hog roast machines and ways of cooking using one.
If you're looking for a hog roast for your event in Southampton, Taste The Cracklin hog roast has to be high up on the list of potential catering companies to choose from.
You could always get in touch with us and let us explain what makes us so special and why so many people are turning to us to cater for their events. You can call us, or contact us through the website.