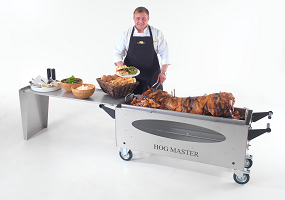 Have you ever been asked by someone what job it is you do…and thought to yourself, do I tell them what it is I really do?
I only ask because when I have told some people that I am a Taste the Cracklin hog roast caterer, they think I am joking! I cannot think why. Okay, I imagine that is not your everyday job like a customer service adviser or bus driver, or maybe it is a bit of jealousy. After all, there can't be that many hog roast caterers around.
I have been the Taste the Cracklin caterer in Stanton for around four years now and I am getting busier and busier every year. It seems that my decision to become involved in hog roasting coincided with a great surge of interest in hog roast but I am pleased because it helps me to enjoy my job even more.
I think a lot of the interest in hog roast is down to more and more programmes on TV about traditional meals and cooking methods.
Apparently keeping things simple and wholesome is all the rage these days and hog roast is perfectly in tune with that philosophy. From the fantastic quality of the local pigs I use right through to the traditional slow roasting approach, hog roast may be medieval but it has a thoroughly modern fan base.
My job as a Taste the Cracklin chef is a very enjoyable one for so many reasons. Obviously it helps that I can work so close to where I was brought up but there is an awful lot more to it than that.
In fact I cannot think of any other job I could have where I could get such satisfaction from the work I do.
It may be that you are reading my little item on being a hog roast caterer because you live in the area and are considering the catering options for your own rather special occasion.
If that is the case then I really should give you an honest opinion. It is not your typical catering solution: it is much, much better than that.
If you want me to come to your event and produce some fresh cooking in a style that is great to watch and carve you some incredible tasting quality pork and crispy crackling that is simply the best you will ever have tasted then you should be in no doubt that it is the choice for you.
There really is nothing better than cooking at a big event and getting the clients and complete strangers coming up to me afterwards and saying what fantastic food it was that I served to them. That really does make me feel very special.
The Market Leaders Of Hog Roasting in Stanton
So what makes my Taste the Cracklin events so great? Well, I don't think I'm alone in producing great hog roasts but I do like to think that the effort I put in to each of my events is proven by the quality of the meat.
I really do put in some considerable time to make sure that everything is absolutely spot on.
Of course, one thing you just can't avoid when you are in charge of cooking a hog roast is long wait for the cooking to complete. You see, when you cook a hog roast you need to be prepared for a long stint of six hours or thereabouts and that's because hog roast is a big beast with a lot of meat.
You also need to get the best out of the slow roasting process, which allows the meat to absorb all the incredible flavours from the bones. It's things like that which help make hog roast so incredibly flavoursome and moreish.
Of course, you don't really need to worry about all this because the whole reason you are reading about this is probably down to you wanting a hog roast at your special event, no?
Well, there is some stuff you should be interested in. Just one of my hog roasts can feed a party of well over a hundred, so you may want to reconsider amending your Stanton guest list because you may have a bit more food than you thought! It's also a remarkably affordable meal.
What would you rather have; a cold spread that no-one likes and leaves most of or a freshly cooked feast that your Stanton crowd devours?
Make sure your guests leave your event with a full tummy and happy memories by making it a Taste the Cracklin hog roast!