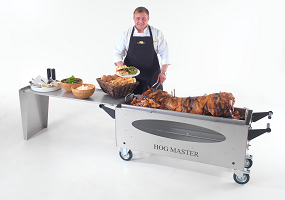 The pleasant and mild natured county of Surrey makes it an absolutely prime location to have a thoroughly excellent hog and spit roast catered event.
As one of the much-loved 'Home-Counties,' the county of Surrey lies just south of the famous city of London. There are eleven parliamentary boroughs in Surrey – with each one being held by a Conservative member.
A reflection on the affluence of the county, it also hints that people there are quite clever also. But that's enough of being political. Bramfield is one of the more lovely areas of Surrey – a great place for people who wish to escape the heady 'hustle and bustle' of the city of London.
By just heading out of the city and south, many people seek refuge in Surrey – which is why it has a very well trodden and affluent commuter belt situated there.
Although the county of Surrey lies so close to the city of London, the majority of land contained within it is classified under 'green-belt.' Comprising mainly of downs and woodland areas, it is easy to see why so many people love travelling there for a hog and spit roast event – particularly in Crawley and Hasslemere.
By looking at how the county is topographically divided, it is also clear to see why we are so privileged to have our base of hog roasting operations here. Even more clear in regions such as Westcott and Eggham, the availability of marvellous produce coupled with the fact that the people of the county love good food, means that our services are always in demand.
So when in Chopwell, you need only give us a call in order to have the finest food known to man.With a wide and varied depth of experience, be it hog roast catering at corporate events or working in offices ourselves over the course of our life.
Our expert staff members understand and appreciate the importance of a good celebration and while it isn't always the most important part of the day, good food really adds to the occasion.
So for your next hog roast in Egham, Hasselmere or Westcott, that people will love give us a call and your food will be enjoyed just as much if not more so than the over played party songs and liquor.
OK, maybe not the liquor! Surely though, faced with the choice of cheese and pineapple cubes on a cocktail stick or freshly cooked meat from a spit roasted hog, 9 out of 10 go with the hog the who doesn't being the office vegetarian and do not worry they will also be catered for with scrummy veggie food.
Of course if you are thinking of a trip back to the good old days of homely and outdoor cooking, with all the romance of seeing your meal being slowly cooked before your very eyes.
That is why it is paramount, when thinking about hiring equipment or bringing in outside caterers to provide you with spit roasted food, that you turn to only most reputable and responsible of hog roast companies.
Taste the Cracklin Hog Roast Catering is one of the most well-established and responsible companies on the market, with a long history of working with the latest in spit turned slow roast cooking equipment.
It is companies like Taste the Cracklin that can guarantee the guidance needed for hirers of their equipment to prepare safe, healthy, hygienic and, of course, highly delicious spit roasted food.
So too the most reputable and responsible companies can leave you reassured by the certain knowledge that if they cater for your event then the health of your guests and the hygienic cooking methods they use will be paramount in their minds.
Be warned, just like in the classic tales of olde, there are villains lurking out there, cowboy companies more than happy to hire out equipment of entirely unsatisfactory quality or to be prepared to cater for events without the least knowledge of minimum standards of health and hygiene in their cooking methods.
The best advice is to shop around and, in as far as it is possible, to check out and compare the credentials of the different available companies in your area.
Surrey is well served with a number of different hog roast companies available within the catchment area. While this is unquestionably a good thing it is best to advise caution and urge any customers thinking of hiring hog roast equipment or having catering provided by a hog roast company to shop around and always check the credentials of the caterers before you make your choice.
While not wanting to scaremonger there certainly are a few horror stories that could be repeated about the decidedly unwanted effects of poorly or undercooked meat left to stand at events and the frankly unrepeatable after effects that eating it had on the guests.
But don't feel you need to worry, Taste the Cracklin's Catering can act as a benchmark of quality and high standards both in food hygiene at the events they cater for and for the support they give to help anyone hiring equipment from them to get the best (and safest) possible results when spit roasting.
Operating a helpline, that can be called at any time, which can provide instant expert advice on how to prepare your food, how long to cook your joint for and what problems to look out for, it is the personal touch that Hog Roast Catering bring to their responsibility to you, the customer, to ensure that you have the best experience you possibly can, that really sets them apart from the fly by night firms and cowboy companies that you will want to avoid.
Once you have chosen the right company for you the next step is simply to decide what meat you and your guests would like to see slowly turned on the spit as it cooks delicately and to perfection a hog is the obvious choice of course, perfectly complemented by apple sauce and stuffing, but perhaps you could consider a delicious side of beef spiced up with horseradish, or a spit turned chicken, or even turkey with cranberry sauce?
The choice is all yours and, just as it is best to shop around for the most reputable caterer, so too should you take time over planning your menu, if only to savour the mouth watering options in your mind.
So cast aside the threat of fly by night catering companies, prepare to swash your buckle and cry one for all and all…well, all back to yours for a delicious home-prepared hog roast perhaps?