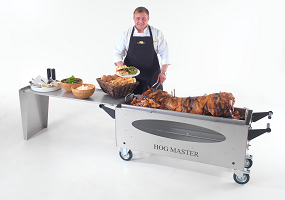 It may sound like a solicitors' practice but you would be mistaken. The Taste the Cracklin hog roast in Swadlincote is something of a growing trend that is sweeping the UK, let alone this south Derbyshire town of some thirty six thousand people. So, what is it all about?
The people of Swadlincote already know the power of hog roast, or at least their ancestors did, for the town of Swadlincote has a fair old history behind, with a mention in the Domesday book no less.
You may also find that hog roast was probably a regular feast for some of Swadlincote's most important individuals.
The modern hog roast is a place where times have moved on and people here, like in the rest of the UK, love to put on a celebration or a function in style, and it is the modern way to try and do things a little differently to the generations gone by.
I am sure that there are people in Swadlincote who have been to far too many events where the catering was dull to say the least.
Why do people put on an event where they want people to enjoy themselves and have a good time yet serve up ridiculously bland party food? How many times will they have seen limp and unappealing sandwiches, soggy pork pies and miserable looking sausages on sticks?
Corporate events suffer the same lack of imagination; the same old meat and two veg dinners are hardly the stuff that inspires new deals and big contracts.
Thank goodness for the Taste the Cracklin effect. Hog roast is everything that these old familiar solutions and excuses for catering are not.
Great Food For All Occasions In Swadlincote
Hog roast is an exciting new catering solution that blows all the old options out of the water for flavour, excitement, visual appeal and versatility. It is a medieval dish that meets a modern need for diners who like great food.
If you are planning a Swadlincote event that needs great food, consider these things before you do anything else. Are you looking for something that appeals to all ages, because hog roast is a favourite for children and for the older generation.
Kids love the crispy crackling and tender meat and the older Swadlincote guests simply love a bit of freshly roasted food.
Are you after something that looks totally amazing? If so, then it is the only solution. When you book a Taste the Cracklin hog roast chef and you are getting a culinary work of art that will be crafted before your very eyes.
The chef at your event will slave away for a fair few hours to produce a perfectly roasted whole pig for your guests' pleasure. And the fact that they can see the hog roast being cooked the whole time really adds a little medieval magic to your whole event.
And finally, are you after a meal that will be memorable for all the right reasons? A meal that is delicious beyond belief with the best succulent flavours you ever tasted? There really is only one answer. A Swadlincote event needs the magic touch of hog roast.