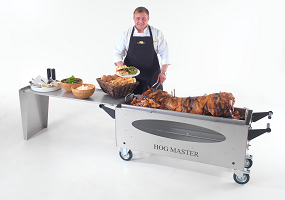 I have been working as a Taste the Cracklin hog roast caterer for the past eight years. The company has expanded considerably over the years.
Specialising in a various range of hog roasts specified by the individual needs of our customers we provide hog roast Swansea catering for special occasions such as weddings, birthday celebrations as well as Christmas and New Year events.
Waterfront city is a major attraction to tourists. It is home to the National Museum which houses major exhibitions, holds archaeological events and also has a dedicated history of Welsh Maritime Industry.
Whilst in Waterfront city I got talking to a customer who had travelled 300 miles just to find out and research about its ever well-known Viking roots!
After all that travelling and researching into our famous ancestors, the customer was ready for a good honey roast pork and mustard sandwich.
On the other side of the coin I have met surfers who enjoy the daily surf and attend local surfing events held monthly.
These events attract both tourists and residents as Swansea is well known for its impressive water sports events. Recently the students of Gower College in Swansea won the BCS Watersports championships 2012.
They competed at Tolcarne beach in Newquay. I bet they were famished after all that competing. My only hope is that they host the event in Swansea next time!
Our dedicated team with over 25 years of combined experience has excellent hygiene, service and culinary standards. We provide all the equipment needed for events and it is regularly maintained.
In order to strive and thrive as a company we pride ourselves on our efficiency, organisation, friendliness and reliability.
We deliver a variety of pork dishes served with seasonal vegetables accompanied with fresh herbs and spices. All dishes include a selection of salads and potatoes which is a great option for vegetarians.
We Serve So Much More Than Pork In Swansea!
Not far away the seaside resort of Mumbles is home to many art galleries and beautiful vintage shops and I find people enjoy browsing and relaxing in this area. I set up stalls mainly at weekends and never struggle for custom.
I always get them queuing at around tea time when the art galleries close. This means that I normally work past six in the evenings on these days but when it brings in the amount of custom, I am not going to complain.
Swansea also has a terrific nightlife ranging from local laid back boozers and posh cocktail bars. This makes my work very interesting. Let's face it; everyone likes a good hog roast in Swansea, with a pork sandwich after a night of drunken antics.
I enjoy my job as a Taste the Cracklin hog roast caterer in Swansea and appreciate the vibrancy and variety that Swansea has to offer.
My hope for the future would be to keep satisfying our customers in order for our business to continue to thrive.
If you would like to talk to us about how we can cater for your event, then please get in touch by phone or through the website.