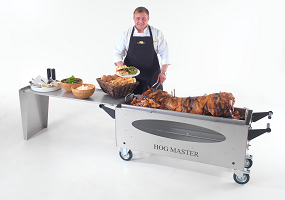 Thinking about catering at your upcoming event? Want something new and exciting, something which your guests will really be excited by, instead of being bored by all the usual suspects?
Here at Taste the Cracklin Hog Roast in Taunton, we believe we have come up with a truly winning formula, for one and all's catering needs. Our secret is really no secret at all – we simply cook mouth-wateringly good hog roasts and offer excellent customer service so that everyone ends up with the party they want.
We believe spit-roasting is the most delicious and flexible dining experience out there, but we understand that many modern events require something more than a hog roast, which is why we have devised several menus worth of dishes specifically designed to compliment our speciality.
This means that we can cater for any and all types of events, from small intimate events to large parties, weddings and corporate events. In other words, from one course to four, we're experts at sitting down with you to come up with a bespoke and personal menu and here at Taste the Cracklin, we have the experienced chefs to deliver it.
As a result, we have a very diverse clientele, ranging from big and small businesses, to individuals just wanting to throw a great party for their nearest and dearest – many of whom choose to book us on multiple occasions, something we're most proud of.
We're A Firm Favourite In Taunton
We pride ourselves, too, on not giving special treatment to larger parties; firstly, we don't refuse bookings on the basis of their size, and secondly, every job we do we put everything into, and every job gets the same treatment – from the quality of the ingredients, to the care and experience of the chefs.
Let's face it, sometimes there's nothing better than a low key affair with your friends and family, and we think there's nothing better to have with it a delicious roast (be it hog roast, or any other of our meat options) served up in a roll with all the trimmings.
Similarly, we're good for any time of year, and any venue. Hog roasts are the perfect Summer food, as they are a traditional outdoors food, along with barbecues (although we do always bring marquees with us, just in case!)
But our innovative and custom-designed spit-roasting machines are adaptable and can be brought indoors to cook in a venue, and there's something delightful about the idea of being warm indoors, and being served hearty and warming food like ours.
Our mission at Hog Roast Taunton is to serve the community, providing first class catering services for all the wonderful events held by the people who live here.
Our attentive and committed office and catering staff are all united in this aim, and we often get as many compliments for the diligence and work ethic of all our staff than we do for the tastiness of our food!
If you're interested in talking to us about your event, then please don't hesitate to contact us – with event planning sooner is always better!