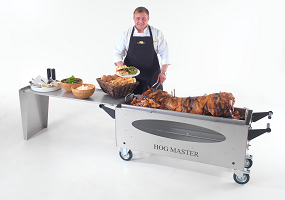 As hog roast caterer in Tavistock, Taste the Cracklin know better than most that the market town of Tavistock is a great place to live and work.
The town grew up around the wool and the tin mining trades and this is one town that has kept its market tradition going. The Pannier Market still offers a wide range of crafts and arts for local enthusiasts and for visitors to enjoy.
Because of the nature of our business, we are always happy to see a commitment to fresh, local produce. The twice-monthly farmers' market in town is a great place to source fresh local produce.
For special events and important gatherings, however, it is often a good idea to hire a caterer. Hiring help means that you don't have to worry about the food and you can relax and enjoy the occasion.
Tavistock is the birthplace of Sir Francis Drake and the town is rightly proud of its history and its culture.
In a prime location on the River Tavy, the town boasts the beautiful Meadows Park and various walking trails. The Tavistock Garden Festival is held in the town each May and the Goose Fair entertains the town in October.
This is a town that is steeped in history and tradition and that loves its crafts and the outdoors. All of this makes Taste the Cracklin the perfect catering solution because our craft is also steeped in tradition.
The town has a few great delicatessens, but we would be willing to bet that none of them could provide the same exciting spread that we can. We cook whole pigs to perfection which means that we can cater to even the largest gatherings.
As well as pork we can create succulent menus using beef, turkey, lamb or chicken and we are always ready to provide fantastic fare for the vegetarians in your group.
You can see some examples of our set menus on our website but you may also notice that we provide a hog roast machine rental service. This means that you can rent our equipment to create your own culinary masterpieces.
Hog Roast Tavistock – Leaders In Our Field
Whether you will be entertaining just a small group of family and friends or if you want to self-cater your own large event, we can provide the support and know-how to set you up cooking your very own delicious spit-roasted meals.
Our machines provide a place to roast the meat but also have room for cooking extra dishes and accompaniments to the main meal. Whether you choose our full-service catering option or whether you just rent the equipment, you can be sure of a unique and delicious meal every time.
We cater for weddings and parties but also for corporate events and business parties. Our most popular option is of course the hog roast, but we prepare other meats to absolute perfection too and we always provide delicious and traditional accompaniments no matter which meat you choose.
Our spit roast pig is served with traditional apple sauce, the lamb comes with mustard and mint sauce, the turkey is accompanied by cranberry sauce, the chicken comes with traditional sage and onion stuffing and the spit roast beef is accompanied by horseradish sauce.
We also cook tasty sides: how about salad and new potatoes? Canapés and chocolate cake as part of a four-course meal?
If none of these delicious options take your fancy then we can create other menus to suit your needs.
Our set menus are there for your convenience but we can always change or add things as needed – contact us and we can talk about your plans.
For even more freedom with the menu (though we can work with you on almost anything) consider Taste the Cracklin for the ultimate do-it-yourself cooking experience.
When you hire from us you can also buy a pig to roast, or you can source your own food, it really is up to you.
Tell us what you want and we can work with you to make it happen. Rest assured that we will be available to answer questions and to support you through the whole process.
We think you will have so much fun that you will want to hire our machine again for your next event.
We also hire our machines to caterers and restaurants that want to try something special for their customers. Wherever you are in Tavistock and whatever your requirements, we can make your plans a reality.