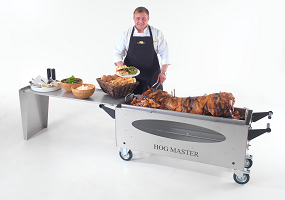 Tenby is a beautiful seaside resort town in the picturesque Pembrokeshire area of Wales. It attracts tourists year round, but mainly in the summer months and the town is a great place to live for locals.
There are lots of things to do in Tenby, most of them centred on outdoor activities, with stunning beaches and coastal walks that will satisfy the most avid rambler. With its beautiful natural scenery and beaches, Tenby is a great place to have parties and weddings – especially in the summer.
Just as important to the success of any party is the food. People are always hungry – especially if there will be alcohol involved, and guests will usually expect a varied and excited spread.
Luckily for Tenby locals need only contact us and we can help to cater parties and weddings, as well as any other event or gathering you can think of. We specialise in hog roasts, but our hog roast machines can also cook other meats to perfection.
Our chefs can cook succulent beef, tasty lamb, juicy chicken, and delicious turkey. We can also provide satisfying top-quality vegetarian meals so that everyone is happy. When you choose us to cater your big (or small) event, we will work with you to make sure the menu is to your liking.
We can serve the meat simply in bread rolls with apple sauce and accompanied by delicious crackling – this is our popular and affordable "pig in a bun" option.
We can also prepare fresh salads to accompany the meat. We are very flexible, so talk to us if you want us to cook the meat while you provide the sides and dessert or if you would rather rent one of our machines and do all of the catering yourself.
Taste the Cracklin are the hog roast hire experts – we can show you how our fantastic machines work so that you can enjoy the experience of roasting your own meat (we can provide the meat or you can buy your own).
The Best Hog Roasts In Tenby
Tenby is home to some fantastic beaches. No matter what your needs, you are sure to find a beach that your whole party will enjoy. The North Beach has interesting rock pools and the famed Goskar Rock. Harbour Beach is home to the Tenby Sailing Club – a good bet for those who enjoy boating and being out on the water.
Castle beach is popular for its rock pools and boat trips. South Beach is the only beach where dogs are allowed off the lead in the summer months – if you will be visiting Tenby with a dog this is the beach to visit.
Whether you live in Tenby or will just be visiting, it might be worth seeing if you can use one of our machines on one of the beaches. Tenby beaches might provide the ideal location. From our perspective, our equipment can be used outside or inside.
If you investigate and find an outdoor location for your special event, we will work with you to make sure that you can also have the catering that you want.
For events like weddings, where everything is planned and you have a lot of responsibilities, a fully-catered event might be easier and less stressful. For less formal events, or for smaller events, doing it yourself is more of a possibility.
Taste the Cracklin also hire out our machines. We can provide everything use. If you choose our hire option, you are free to cook anything you want, but we still suggest pork as our meat of choice.
There really is nothing quite as satisfying as roasting using a spit – and a roast pig is the ultimate dish and it is what our machines were made for.
You need to have a fantastic time. Nothing will impress your friends and guests more than the sight of you manning one of our impressive machines.
You can also turn renting our equipment into a group activity. Everyone knows that barbeques often attract "expert" opinions from guests on how to cook the meat. Imagine how much fun your guests will have discussing how to cook meat using the spit-roasting technique.
It will most likely be something completely unique that they have not tried before. When you rent a machine we will give you full instructions and then it is up to you if you let your friends and guests in on the cooking secrets.
Tenby's residents are lucky to live in such a beautiful area of the country. There is always a lot to do and the town and surrounding area has many options when it comes to venues for your important event.
There are also many choices for catering, but we provide a service like no other, so contact us to see how we can make your event extra-special.