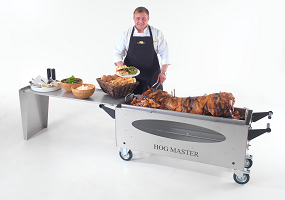 At Taste The Cracklin we offer a number of different services our most popular one being hog roast catering, this is because it allows you to relax knowing that only the very best hog roast Thame can offer is being served at your event.
We also offer hog roast machine hire which allows you to be the one cooking the hog roast, all of our hog roast machines are very simple to use as long as you follow the instructions.
When you choose to hire a hog roast it gives you a lot more freedom, because you can choose exactly what you serve, you could choose to roast a turkey, or lamb, it really is your choice.
It is very easy to forget that a hog roast machine is not for purely roasting a hog, you can cook a number of different meats with a hog roast machine and we often do so.
Fantastic Hog Roasts And Balanced Menus in Thame
All that's needed is the different attachments which you will be provided with when you hire one of our hog roast machines.
If you are looking to hire a hog roast machine or a hog roast for your event you will find the best hog roast Thame can offer at Taste the Cracklin.
Give us a call or fill in your details in the contact form and we'll talk you through how we can help you and find out a little more about your requirements and find a solution that best fits what you need.