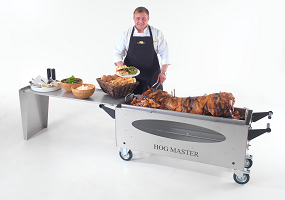 Tredegar is another town which owes much of its development to its resources of iron ore and coal, growing quite quickly back in 1700 and onwards.
Now it is a pretty, dignified town where I was asked to bring myself with hog roasting machine in tow to provide sustenance to those at a car boot sale one rather murky Saturday morning.
I brought along a locally sourced hog and after setting up early, began cooking it from fresh. It would take around six hours, by which time the sale would be in full swing.
Working for Taste the Cracklin', I've carved hog roasts as a private caterer in car boot sales (after purchasing one of the hog roasting machines available on this web site) and offering pig in a bun snacks, and also at much larger more lavish events such as weddings and christenings.
Taste the Cracklin in Tredegar is really kicking off due to the growing popularity of hog roasts. We are very proud of our hog roasting machines and have designed them to utmost industry standards, it really is a pleasure to use them.
The sturdy stainless steel machine can cook enormous hogs to perfection, and the wheels and handles ensure ease of movement wherever you are.
Our machines are EC rated and you'd be surprised how easy it is to start cooking even if you're simply a beginner.
We supply hog roasting machines to caterers and private parties alike, and are very proud of glowing reviews from both professionals and those of you starting out on the hog roasting scene.
We offer two types of roasting machines for your hog roast hire; the first is the standard hog roasting machine.
Your pig sits in a carefully designed roasting tray and the machine simply goes to work, cooking it through and leaving the meat tender and moist.
Magnificent Mains In Tredegar
Our second type of machine is the more recognisable spit roasting device; skewered on a strong stainless steel spit, your hog is turned gently by the powerful motor and cooks the pig just right, leaving it with a deliciously crispy shell and gorgeous succulent meat.
Both provide quite a spectacle at your event, and both give you perfectly roasted pork that will leave your guests wanting more.
One of the best things about a hog roast is the appearance. At Taste the Cracklin, it really does bring some theatrical grandeur to even the smallest of events, and the sight of delicious pork slowly turning on a spit is sure to set some tummies rumbling.
The delicious scent of roasting hog wafts through the room and when the meat is carved, the skin crackles and the meat is so succulent and tasty you can be sure your guests will be coming back for more.
As a hog roast chef I often field questions about the process itself and am always happy to answer, and even happier to carve off the meat for them to try. I'm always confident they will enjoy the taste; so far, I haven't been wrong!
If you want to try your hand as a hog roaster, you can hire a machine for your event. With Taste the Cracklin, we will deliver it to you in good time, and we can also provide you with a locally sourced hog too if you can't find one yourself. We give full instructions on how to use the machine and offer up any handy tips.
We will provide a can of gas which will keep the hog roasting right up until long after it's done, but you can hire the machines for longer if you like. When you're all done, we will come and pick it up.
The hog roasting machines are not affected by the weather at your event, so that's one less thing to worry about if the heavens do open at your outdoor party.
The design of our machines incorporate wheels under the sturdy steel undercarriage and hefty strong handles on either side, so you can drag it under or a marquee or indoors and keep on cooking. This versatility means our hog roasts are perfect any time of year, any weather.
After serving fresh and delicious roasted pork in bread rolls with a choice of either stuffing or apple sauce, I'm inundated with customers and have carved my last piece even before the car boot sale has ended.
As a caterer, the purchase of a hog roasting machine really is a wise investment and the hire of one at your event can pretty much guarantee satisfied guests!