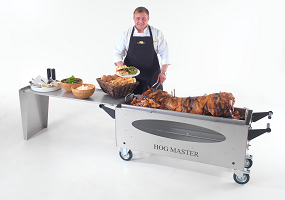 Now I know you are just dying to know what it is like to be a Taste the Cracklin caterer of hog roast in Uxbridge, well let me tell you all about it.
Firstly the cold hard facts; Uxbridge is a large town in Middlesex, it has a population of around 25,000 residents and is home to several big international companies such as Cadbury and Schweppes, Brunel University is also located in Uxbridge. Famous historical events to take place in this town include the meeting and negotiations between King Charles I and the Parliamentary Army in the pubic house named 'The Crown and Treaty' which still stands today.
But enough of the book worm stuff the most significant aspect of Taste the Cracklin's hog roast catering in Uxbridge and its mighty residents is their penchant for pork, their hankering for hog and their soft spot for a spit roast!
At Taste the Cracklin, we offer a huge selection of menu options for you to choose from, we can offer a 'pig in a bun' perfect for a wedding evening reception, a formal or informal buffet which are great for large parties and even a sit down meal which are often preferred by our large corporate clients who like the theatre of seeing the hog roasting but favour a seated occasion where the food is served to the table in style.
Don't worry if pork doesn't float your boat we can do several meats so there is always something for everyone. Specific options include but are not exclusive to; Pork, Sirloin of Beef, Chicken, Lamb and Turkey with classic sauces all cooked on a spit roast accompanied by either an unceremonious bread roll to make a seriously great moist meaty butty or sliced on a plate with fitting side dishes such as; Green Leaf, Tomato and Basil Salads and Coleslaw, lovely warm new potatoes in a herb butter and much more besides. If you have a favourite in mid that is not on our website just let us know and we will endeavour to supply whatever you fancy. We can also cater for vegetarians on request. My mouth is watering just thinking about it all!
Part of the hog roast Uxbridge hire service is the setting up of the machines early in day, obliging and eager staff to serve and wait tables, bar and gazebo hire if required, we bring the locally sourced meat of course and the plates, cutlery and napkins either disposable or if you are feeling swanky we can even bring real ones! We even discreetly tidy everything away before we leave so you can party the night away guilt free.
Hog Roast Heathrow Menus Are Completely Flexible
The option is even available if you feel like you are a budding Aussie BBQ Bruce or Sheila, then you could hire a hog roast machine from Taste the Cracklin and have a go yourself, just think how impressed your friends would be if they arrived at your bash be it wedding, birthday, christening or a garden party and there you are, in your inappropriate apron standing besides a huge glistening hog (and I don't mean your mother in law!).
We deliver, collect and demonstrate the machines so by the time the guests arrive you will be in control and brimming with confidence.
Due to our proximity to the Capital Taste the Cracklin catered for the London Olympics in 2012 wrap party for over 300 tired and hungry Team GB athletes which was a huge honour and success for us. My large team of chefs, wait staff and I arrived in ample time to set up the equipment and several gazebos (as who can trust the British summer?) to cook the hogs, chicken, lamb and beef from fresh onsite which does take a number of hours to achieve that crispy delicious skin and moist meaty inside.
The Olympians chose an outdoor buffet and hogs of Greek God Dionysus proportions; and as God of festivals, parties and wine, he loved a good knees up!
As the amazing smell of pork wafted around the party drawing the hungry athletes nearer we all got ready for a very busy service. We supplied plenty of side salads for the gymnasts, fencers and equestrians and heaps of meat including burgers, sausages and kebabs for the swimmers, shot putters and wrestlers!
As some of these Olympic Gods and Goddesses consume up to and over 6000 calories a day the pressure was really on the make sure everyone had their fill, but rest assured there was plenty enough golden piggy for them all.