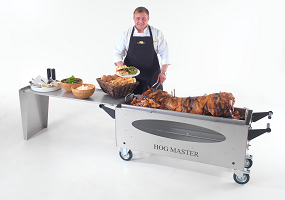 Working in the catering business can get a little exhausting at times, but as Taste the Cracklin's hog roast caterers in Wadebridge, we consider ourselves very fortunate to have the charming town of Wadebridge as our home base.
Everyone in the town is welcoming and friendly and there are lots of things to do to unwind after a hard week at work. The town's history dates back to the 14th century but this little market town has come a long way since then.
The market atmosphere is still alive and well with the arts and craft movement playing a particular influence in the area. Small galleries and shops keep the craft tradition alive, with pottery and furniture being among the most popular wares available.
There are so many wonderful little shops in town, and we are proud to supply the best Wadebridge has ever tasted. We don't have a shop in town, but we do provide catering services in the town and in the surrounding area. We also hire equipment for those of you that fancy trying your hand at hog roasting.
When thinking about Wadebridge history comes to mind. With such a long history it is easy to imagine the town's forebears cooking meat for feasts much the same way that you can cook meat using our specialist equipment.
If you have ever seen a juicy, succulent pig going round and round on a spit, you will know the special nature of the services we offer. This truly is food like no other.
We appeal to the most carnivorous side of human nature, but we can also cater for vegetarians so don't worry! In this age of processed and frozen food, there is something extremely satisfying about being able to see where your food came from.
We source our meat from carefully-selected suppliers so you can be sure that it's fresh and that it will be delicious. We roast whole pigs, lambs, turkeys and chickens.
This is fresh food at its best because you can see that we don't do anything to the meat except cook it as it was meant to be cooked. We can also roast succulent sides or cuts of beef (we love beef but the whole cow is just too big to fit on the spit!)
When you rent from us you can also buy meat from our suppliers, or you are welcome to just rent the machine and purchase your own ingredients.
Either way with locals and visitors alike can be sure of an extra-special meal.
Leaders In Our Field in Wadebridge
You don't have to know what you're doing or be an expert at this sort of cooking, we can show you how to do absolutely everything (don't tell your friends though because you will look like an expert once we have shown you what to do!).
Taste the Cracklin love working in this area because it is such a beautiful place to live and to visit. The most special attraction for us is the Camel Trail that passes right through the centre of town. This spectacular paved trail follows the old rail line that used to run through the area.
When it was decommissioned it was turned into a multi-use trail that is perfect for people of all ages and abilities. We know people who love using the trail for family walks and for bike rides.
Avid nature lovers and bird watchers also especially love the trail because it winds through some of the most interesting and picturesque countryside in the region.
When we're not walking the Camel Trail, we are cooking delicious food for the people of Wadebridge.
There is always something special going on in this town and we cater for birthdays, weddings, anniversary parties, corporate events and any other special occasion that people want catered. People love our service because it is so easy and so versatile.
Our pork sandwich menu is among our most popular because it is simplicity itself – just succulent pork in warm bread rolls served with the traditional accompaniment of apple sauce and some crackling on the side.
For a more elegant touch we can cater full sit-down meals with crockery, cutlery and glasses (and of course drinks to fill them). When you contact us with information about your event we can work out all the details to make sure that you have the menu and the service that you want for your big day.
We can also cater to or rent out machines for smaller gatherings as well, so if you just want some good food to enjoy with a small group of family and friends we can arrange that too.